Review: WWE Monday Night Raw at the Scottrade Center in St. Louis (10/14)
This week's Monday Night Raw was live in our very own St. Louis, and it was not good. I will admit, I wish I would have stayed home, so I could use my DVR to fast forward through the majority of the program. At one point, I actually fell asleep at the Scottrade Center.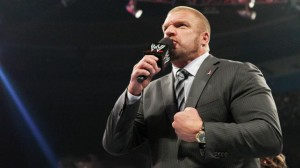 By the looks of a lot of people in attendance, they felt the show was super-boring as well. Let's face it, the WWE product is just pretty lame right now. I will speculate that since it's football season, the WWE realizes it can't compete with the NFL and is putting out a second-rate product. That could be true, or it could be that the writers of the WWE just need to pull their heads out of their asses. Fans are getting real tired of seeing the same matches over and over, and over again. I mean, how many times can a person really tolerate seeing the same match in one month? It would be a little different if the feuds were actually intriguing, but they, for the most part, are not.
I will say that the show did feature a solid promo from Triple H and Stephanie McMahon that cemented their status as heels. And yes, Shawn Michaels did show up for a promo with Randy Orton, but it was pretty pointless.
I was so disappointed with the show Monday night that I left early. As soon as the CM Punk match ended with Curtis Axel, I was out of there. I figured, I would enjoy the ending on DVR much better than in person. I was indeed correct. By the way, Punk beat Axel again! Because of the victory, he gets to face Ryback again! Oh, and Paul Heyman is involved, AGAIN! See what I mean!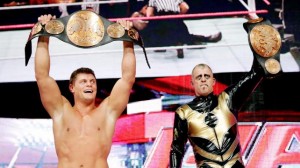 The final match of the night saved the show from being a total turd of an event. Cody Rhodes and Goldust put on one hell of a performance against The Shield to win the tag team titles. Yes, Big Show aided Cody, but that's okay, it was an exciting match.
All in all, it was a disappointing night for wrestling fans. Lame matches and some lame promos kept the crowd from getting into things. Another disappointing announcement was made about the next WWE event in St. Louis. While many thought The Lou would be getting another pay per view in the future, WWE gave us in attendance, another kick to the nuts, when they announced that tickets for a house show on Friday, Jan. 17 would go on sale after Raw went off the air. Many in attendance grumbled at the lackluster announcement, which was just another reason Raw was a waste of time.
Photos © WWE.