Review: WWE Monday Night Raw (1/13)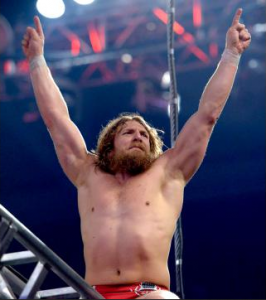 This week's edition of Monday Night Raw continued to build upon the upcoming Royal Rumble pay per view. The main storyline to get a lot of attention was the Daniel Bryan/Bray Wyatt story. While it appeared that Bryan had gone to the dark side and joined the buzzards, apparently things changed on Raw. After opening the show against the Uso's, Bryan and the Wyatt clan were upset after losing the opening match. This led to Bray hitting Bryan with a Sister Abigail in the middle of the ring. Rowan and Harper then drug Bryan into the back. It was announced that the pair of Bryan and Wyatt would get a shot at the Uso's in the main event, which would be inside a steel cage.
Personally, I feel the point of having a steel cage is ridiculous in today's WWE. Fans know that WWE has a no blood policy, so what is the point of a steel cage? That's just my opinion though; I will reserve my rant for another time.
The cage match was actually a shocker. I did not see Bryan turning on the Wyatt's this soon. However, after losing the match, Bryan was left in the cage with Wyatt. Wyatt attempted to assault Bryan, leading to Bryan turning on him. The crowd went wild. To say wild, is actually an understatement. Daniel Bryan is more over than any WWE superstar has been in years. It's clear that the WWE Universe loves him. It will be interesting to see where WWE goes with Bryan from here on out. Is there a Wrestlemania match with the Undertaker in the future? Is there another WWE Title run in his future? It will sure be interesting to see how the company handles the hottest star they have at the moment.
Another interesting turn of events that happened on Raw, involved John Cena and Randy Orton's title feud. Orton was in a match against Kofi Kingston, and became irate after Kingston got the upset victory. In his usual psychotic self, Orton paced around the outside of the ring. While doing so, he attacked John Cena's father, who was sitting ringside. Cena came sprinting down to check on his injured father, who was put in an ambulance. Cena's father is said to have an injured right eye. This brings some heat to the otherwise lame title match that will be happening at Royal Rumble. It will be interesting to see how Cena responds. I think we will see "Super" Cena appear and destroy Orton at Rumble, winning the title. Or, will The Authority get involved. I mean, in any other company, it would not be okay to attack an audience member, much less a family member of another employee. I think this is another solid job by WWE creative in adding some much needed heat to this match.
I also have to address the CM Punk and New Age Outlaws match against The Shield. It appeared as if Punk and the Outlaws had struck up a good friendship, but that was not to be, as the Outlaws left Punk in the ring to battle The Shield all by himself. The Shield then decimated the self-proclaimed best in the world. This will undoubtedly lead to a feud with New Age Outlaws and Triple H. It's been rumored that Punk will fight Triple H and WrestleMania, so this is a start to that feud.
Finally, the first WWE Hall of Fame entrant was announced and it was none other than the Ultimate Warrior. I for one, am psyched to see the Warrior back in the WWE. There's no doubt that the Warrior is a little nuts. I mean, anyone who would legally change their name to their character has to have a few screws loose. But, the guy is a WWE legend. It will certainly make the Hall of Fame induction ceremony worth seeing.
All in all, it was another solid Monday Night Raw with a number of good storylines progressing. I give the show a B.
Photos © WWE.