Snow Angels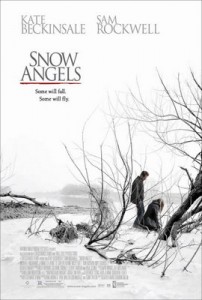 A sad and tragic story doesn't take away from this expertly crafted and wonderfully acted film, though doesn't leave you all warm and fuzzy in the end; which is ok.
Annie (Kate Beckinsale) is a single mom working as a waitress at the local Chinese restaurant, Glenn (Sam Rockwell) is Annie's separated husband who is recovering from alcoholism and an attempted suicide, and Arthur (Michael Angarano) is a high school student who is coming to grips with his feelings on love as he comes of age; and the film surrounds the interactions of these three and the people in their lives and serves as a portrait of tragic America. Glenn is making an effort to change, born again Christian and clean, he has a new job and desperately wants to reconnect with his family. Annie looks to her friend's husband for romance as the two spend afternoons together in a hotel when she can get a sitter for he daughter Tara. Arthur is a normal kid who starts to bond with a girl at school, Lila (Olivia Thirlby), just as his parents marriage begins coming apart. The film is filled out with a number of supporting players and focuses on these characters lives as they unfold over a six week period. There is no over arching plot or goal to the picture, it is simply a study of these peoples lives and the relationships with those around them.
The film is subtle and wonderfully put together, with a great pace that works just right for the pictures, and David Gordon Green's direction of his actors creates genuine and real feeling performances. Everyone involved never feels like a type, and has depth that goes far beyond the surface. All the actors turn in performances that feel plucked from real life and are great from head to toe. Comedy is also sprinkled in just enough, in all the right places to lighten up the tone when it needs it, and with out it the film would have been tough to swallow. The film also does a great job at creating a realistic high school relationship, a troubled attempt at reconnecting a broken marriage, as well as the potentially crumbling marriage as well. That's not to say the film is all gloom and doom, as the Arthur/Lila relationship is sweet and won't upset you, but the downer parts outweigh the nicer moments for sure. Green's ability to make his film feel lived in and real can not be overstated and between this and Pineapple Express, he has shown his range and ability as a filmmaker is quite great in a single year.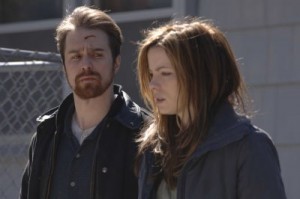 Getting on to the actors, Kate Beckinsale is sad and great as the mother who is torn by her emotions towards he estranged husband. He obviously has screwed up in the past but she feels for him and is on the verge of giving in, and Beckinsale does such a fine job of conveying this when the opportunity presents itself. She also does a good job of creating a mother that is tired and is doing the best she can, but also giving her a natural weakness that can come for someone that is put in the position Annie is. Michael Angarano also does great work at creating the average high schooler, never giving into cliché and feeling in genuine and his work with Olivia Thirlby works great and they are cute and innocent and feel authentic. And by the way Thirlby is fantastic here, creating a cute if a bit odd girl that you we all knew from high school; and I really hope she breaks out sooner rather than later as she is pretty great in everything I have seen her in. Nicky Katt is also great as an adulterous husband who in most peoples hands would play to the pumped up dick head, but instead plays the character as someone who is doing his best, but isn't that believable in the end. Lastly, there is Sam Rockwell, who is one of the most underrated and underappreciated actors in the main stream film scene in years, as he turns in an amazing and haunting turn as Glen. His characters arc feels so genuine through and through, and we can help but feel a little sympathy for this guy that is just trying to reconnect with his family. But everything we kind of by into slowly unravels, and Rockwell does such great work and hinting at the deeper and dark side of his character along the way. I can not praise him enough for his work here and hope he finds a larger audience because he is too good to be stuck in these smaller, lesser seen films all the time.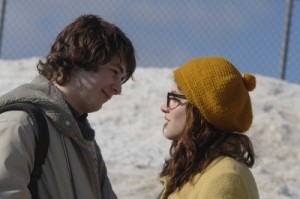 In the end, Snow Angels is a sad and tragic film, but it is also a showcase for everyone involved. The actors are all wonderful, the direction is top notch, and the story while not uplifting, is still genuine and sadly real as many people are stuck in situations like these and are forced to extremes because they feel they have nowhere else to go. One of the finer pictures of the year is definitely worth watching; just don't go in expecting to come out feeling all happy inside.
9/10