Review: Cast Dazzles and Delights in 'La Cage aux Folles' at New Line Theatre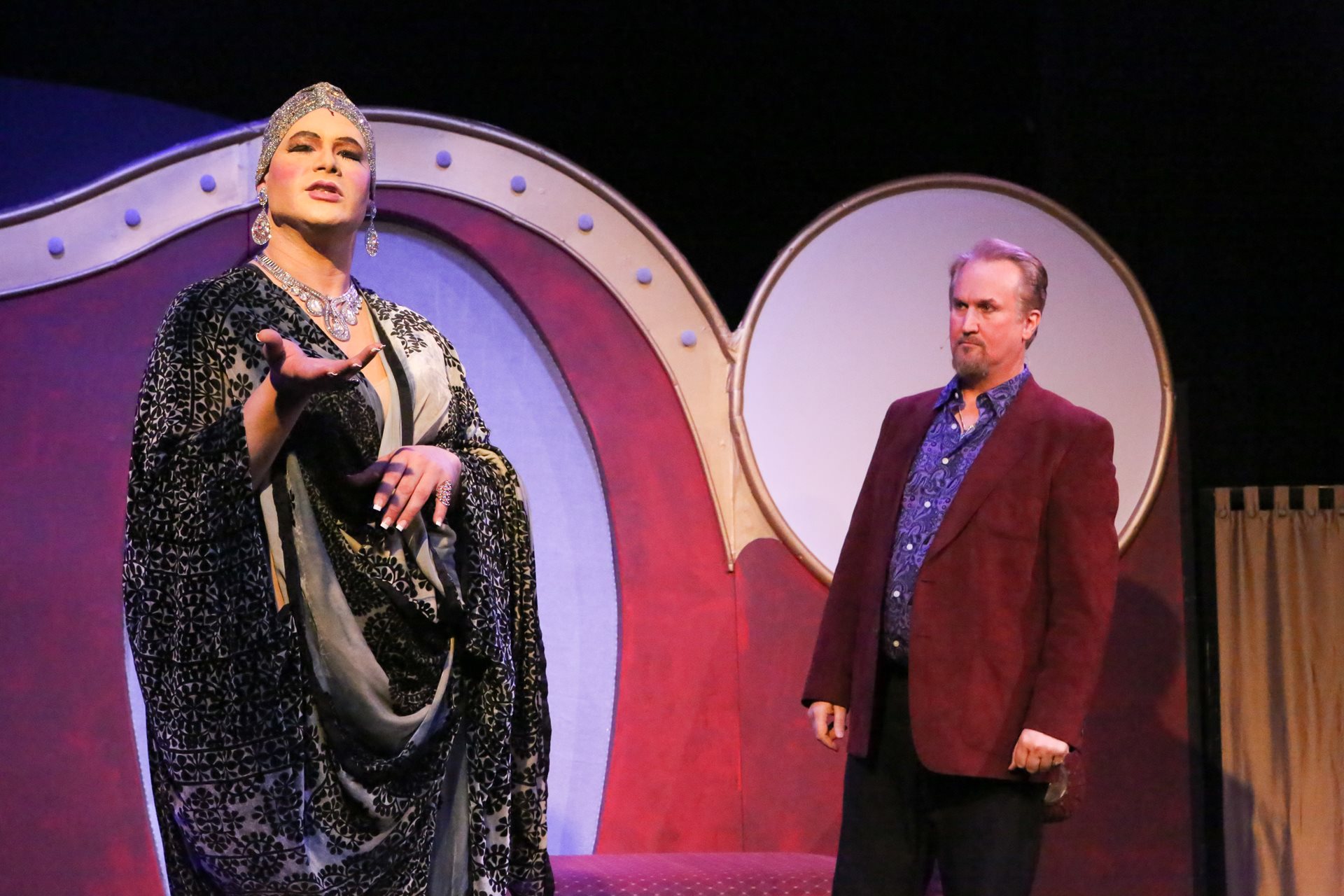 Now playing through March 23.
Based on the play by Jean Poiret, La Cage aux Folles was adapted into a musical by Harvey Fierstein and Jerry Herman. The show made its Broadway debut in 1983, going on to win six Tonys (including best musical) out of nine nominations. It has been revived twice on Broadway, winning the Tony for Best Revival of a Musical each time – the only show to ever do so.
The play was also adapted into a French film in 1978, but moviegoers are likely more familiar with the American adaptation starring Robin Williams and Nathan Lane – The Birdcage from 1996.
With all the adaptations, the story remains fairly faithful to the source material. Georges (Robert Doyle) owns a nightclub in French Riviera – La Cage aux Folles – where his longtime romantic partner Albin (Zachary Allen Farmer) headlines a drag show as Zaza. As the show opens, we are introduced to the other dancers – the "Cagelles" – all delightfully played by Jake Blonstein, Dominic Dowdy-Windsor, Evan Fornachon, Tim Kaniecki, Clayton Humburg, and Ian McCreary. In the opening number ("We Are What We Are"), the audience gets a small taste of each of their personalities, and their specialty in the act. It's not only an entertaining first number, but a heartfelt one as well.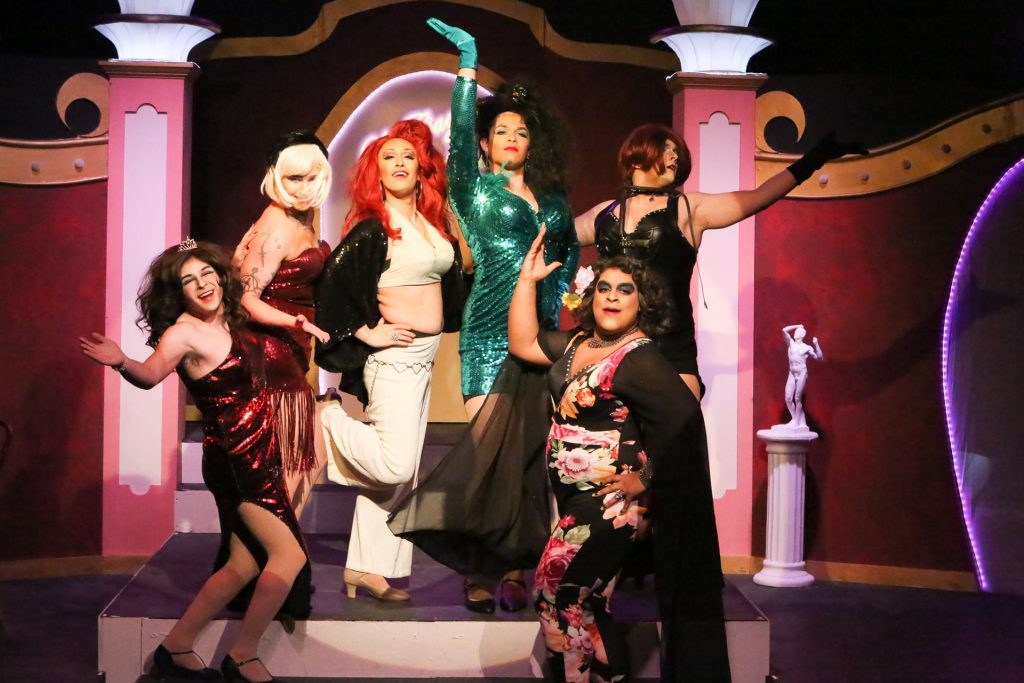 We find that Georges and Albin are struggling with their relationship, not unlike many people who have been together for 20 years. And to make matters worse, Georges' son from a one night stand, Jean-Michel (Kevin Corpuz), shows up unannounced with news of his engagement ("With Anne on My Arm") to Anne (Zora Vredeveld). But the worst is still to come, as Anne's parents are ultra conservative, and her father (Kent Coffel) is head of the Tradition, Family and Morality Party. He aims to stop nightclubs like La Cage, so Jean-Michel convinces Georges to act like they're a straight, traditional family. Complicating matters is Zaza feeling tossed aside after years raising Jean-Michel.
This was my first time seeing La Cage aux Folles, and I was blown away. There is so much packed into this show – singing, dancing, romance, humor, emphasis on family and being yourself. And La Cage never ceases to entertain while developing these complex characters and their compelling story.
Patrons of New Line are no strangers to Zachary Allen Farmer. He's made a lasting impression on me since the first show I saw him in back in 2012. He stands out in whatever role he takes on, and is always magnificent. His take on Zaza is extraordinary, heartfelt and humorous in the most genuine way. After watching the French film and musical, I can easily say that his portrayal is my favorite. He doesn't play Zaza as exuberant as previous interpretations; Farmer approaches the role much more like Norma Desmond in Sunset Boulevard. She's refined, classy, and a beauty from another era. But instead of trying to get back into the movies, Zaza wants to get back to the peak of her relationship with Georges. Farmer gives a tour de force performance here.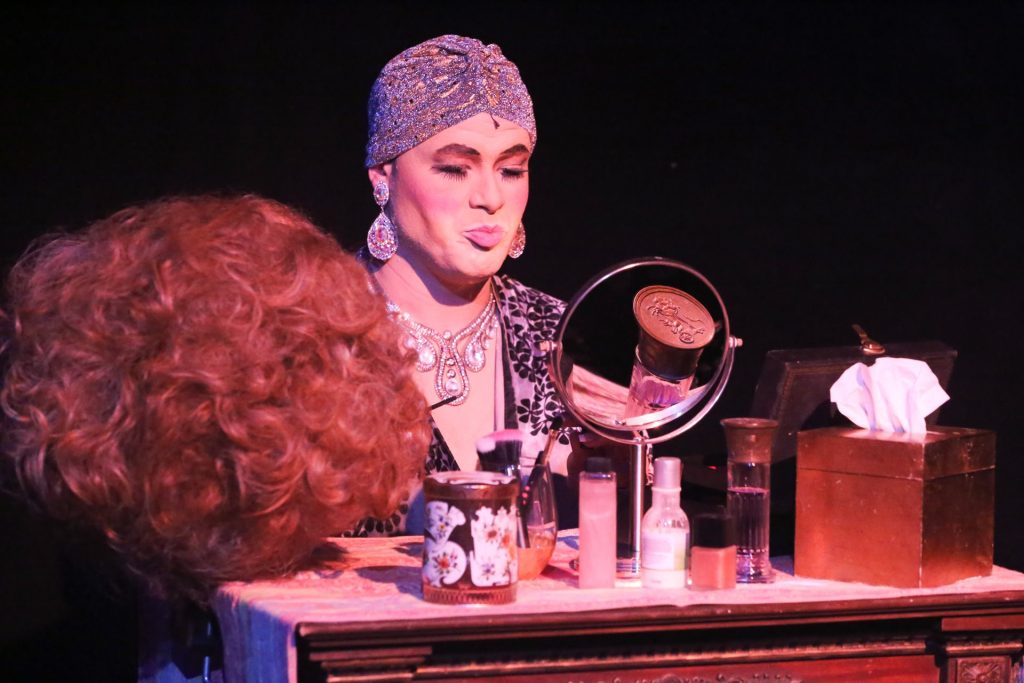 I really enjoyed watching Doyle in the role of Georges. He has an instantly likable personality, and the actor gives a very sweet and sincere portrayal. I do wish that he gave the character a bit more energy at times. Especially in the beginning, when Georges is the emcee for La Cage, it seemed a bit understated. But as the show goes on, his chemistry with Farmer and Georges' love for Zaza and Jean-Michel feels genuine. Doyle's physical comedy and timing are fantastic, adding to how likable the character is.
Kevin Corpuz gets to show of his vocal talents as Jean-Michel, sounding terrific during his rendition of "With Anne on My Arm." It's a very sincere and sweet song, and a nice moment between he and Doyle. Vredeveld joins him for a nice dreamlike sequence, where she comes in for a dance.
The actors who portray the Cagelles (the drag chorus line) at the club are all fantastic. Their characters all have wildly different personalities, and combining them together makes for a hilarious experience. I don't know if all or any of them have performed in drag before, but they seemed natural while putting on a great show. Evan Fornachon, who is another favorite at New Line, plays a dominatrix-type who gets lots of laughs. I've never heard Dominic Dowdy-Windsor sing in quite as high of an octave, and he was terrific as always. Jake Blonstein's facial expressions had me cracking up the entire time, while Ian McCreary played it elegantly and more serious. Tim Kaniecki and Clayton Humburg both appeared to be having a blast, and looked fabulous while doing it!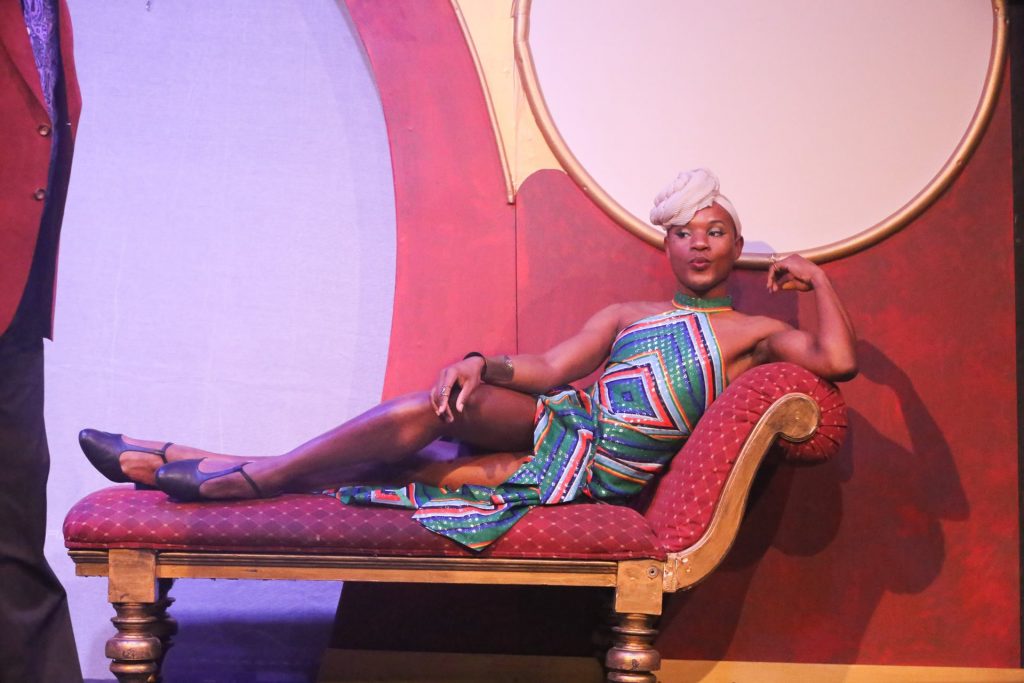 The entire show is a riot, but one of the most hilarious performances of the evening comes courtesy of Tielere Cheatem. The actor plays Georges and Alabin's butler (or maid as he prefers) Jacob, and his line delivery never fails to bring out laughter in the audience. That, coupled with his fiery body language, makes him extremely fun to watch.
Kent Coffel is good as always, here playing Anne's father. The looks of confusion on his character's face are priceless, and he makes a great pairing with Mara Bollini as his wife. Joel Hackbarth plays the stage manager (Francis) who gets into a humorous relationship with Fornachon's character, while Lindsey Jones plays Jaqueline – the owner of a popular nearby restaurant.
The music, with direction by Nicolas Valdez, perfectly sets the stage for the show within a show. It also beautifully sets the mood for many emotional scenes between Georges and Albin. "Song on the Sand" is a touching moment between the two, as is the finale of the show. I can't overstate the chemistry between Farmer and Doyle, and how perfect they are together on-stage.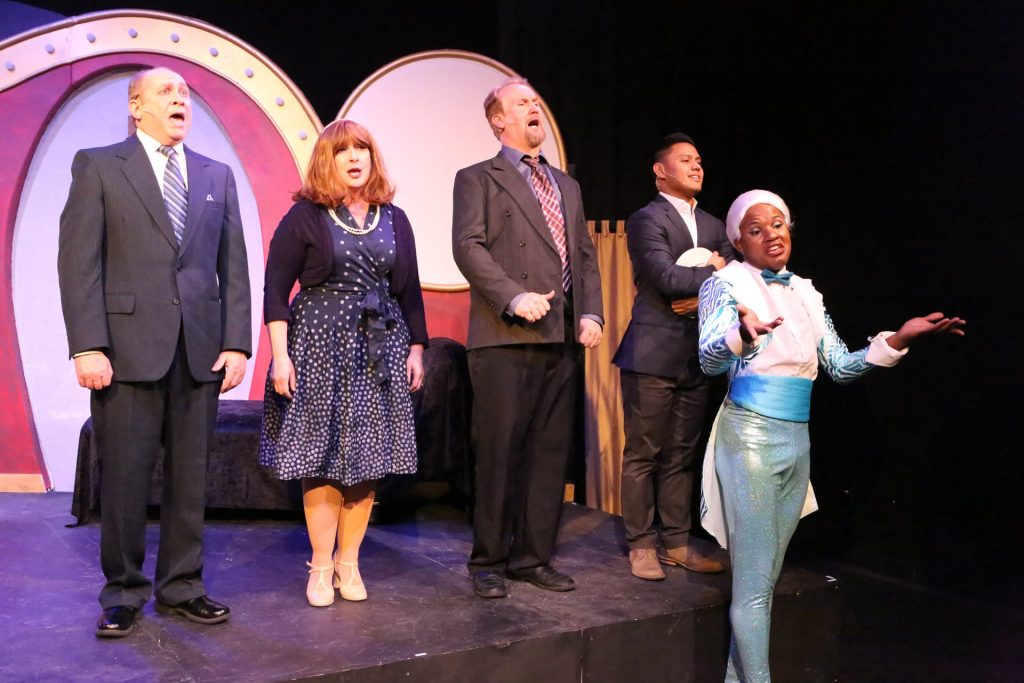 Rob Lippert once again crafts a fantastic set, inviting the audience into the nightclub as well as Georges and Albin's home. The band is lit from behind one of the windows, like the dancers, and it is a clever way to watch them but still have them discretely tucked away.
The show features a myriad of gorgeous costumes by the talented Sarah Porter. Zaza's outfits are always stunning, and The Cagelles are dressed to the nines. Meanwhile, Georges and Jean-Michel are kept looking sharp.
Directors Scott Miller and Mike Dowdy-Windsor do what they do best here, which is take an already brilliant show and somehow make it even better. The staging is perfect, with great casting and direction which makes these characters come to life in a lovable and believable fashion. I've seen several versions of this story now, but I have certainly found my favorite one at New Line.
"It's hot and hectic, effervescent and eclectic
At La Cage Aux Folles."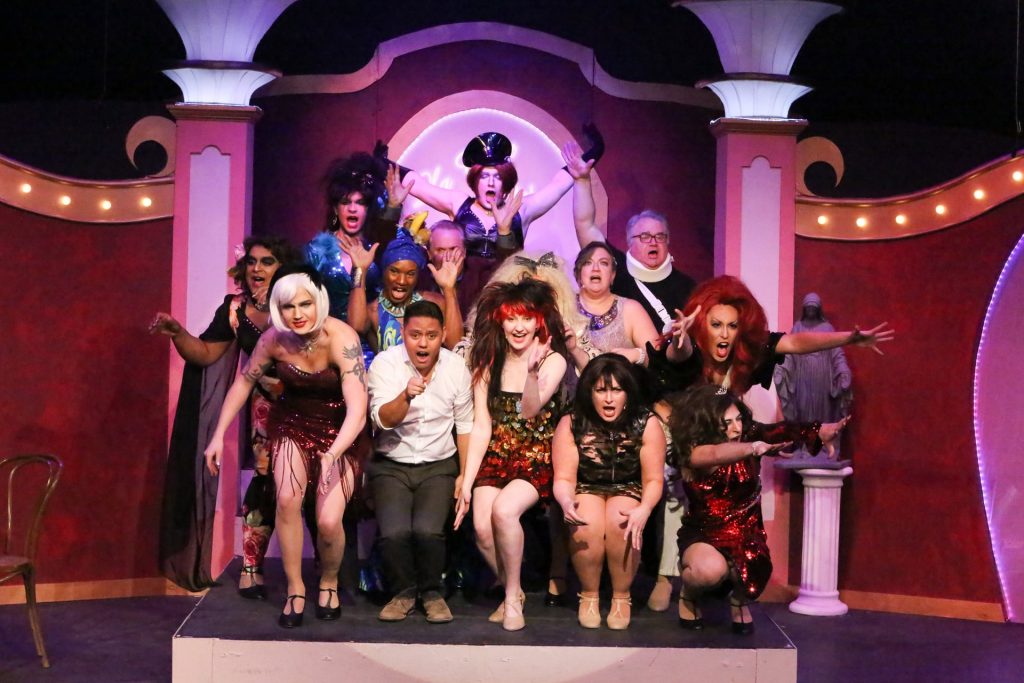 See La Cage aux Folles at New Line Theatre Thursdays through Saturdays through March 23. Tickets are available through MetroTix, by calling 314-534-1111 or visiting the Fox Theatre box office. For more information, visit newlinetheatre.com.
All photo credit: Jill Ritter Lindberg.