Pujols Out 4-6 Weeks; Critics Claim He Was Already Out First 2 Months (Video)
The injury bug has claimed yet another victim on the Cardinals roster, as it was announced today that Albert Pujols would miss approximately 4-6 weeks with a nondisplaced fracture in his left wrist. His critics have downplayed the significance of this, claiming he didn't show up for the first two months to begin with.
Watch the video of Albert Pujols' injury: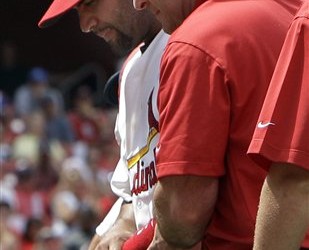 In the top of the sixth of Sunday's game, Kansas City's Wilson Betemit grounded one up the middle. Pete Kozma snagged the grounder and, throwing across his body, tossed one slightly up the line to Pujols' left. As he reached out for the throw, Betemit collided with his wrist. Pujols immediately fell to the ground in pain, proving that deities do, in fact, feel pain. The injury was initially ruled a sprain, but tests Monday morning diagnosed the fracture.
Albert's undoubtedly struggled in 2011, the final year of his contract with the Cardinals. His numbers (.279/17/45) are excellent for most any other player, but for a person who's established himself as one of the premier players in the game, they're a bit off what we've become accustomed to.
Alas, it seems all he needed was warmer weather. Once the calendar turned to June and the beloved St. Louis heat/humidity was turned on (thanks, God!), Pujols responded with his typical numbers, hitting .317 with 8 HR and 14 RBI to go with a .419 OBP and ridiculous .778 slugging percentage.
Remarkably, despite his struggles, the Cardinals enter this stretch without him tied for first at 40-33. The Cardinals have done a terrific job patching up holes in their lineup this year, overcoming the absences of several different players, including Matt Holliday, Allen Craig, David Freese, Kyle McClellan, not to mention Adam Wainwright.
Losing Pujols will be tough, especially in the coming stretch, but it's not insurmountable. Lance Berkman has been surprisingly dominant this year, hitting .308 and is tied for the Cardinals lead with 17 HR and leads the team with 51 RBI. In his four games back from his stint on the DL, Holliday has gone 5 for 12 with two HR and 4 RBI. Berkman will most likely assume duties at first base, opening up a spot for John Jay to take time in right. Jay's a solid fourth outfielder who might be our best defender roaming the grass.
Freese's return could really inject this lineup with a bit of life. Out since May 1, Freese was tearing it up, hitting .356 with 14 RBI in 25 games. The lineup, I'm not too worried about. The pitching, on the other hand, is the subject of an entire other post.
For now, hopefully Pujols can recover within a month and be as healthy as ever. What does this mean in the long run? Two things.
One, his streak of .300/30/100 is almost undoubtedly over. As many people have noted, Albert is the only player in history to start his career with ten consecutive seasons of hitting over .300, 30 HR, and 100 RBI. This is a testament to not only his ability but his consistency. Were he to retire today, he'd be a first-ballot Hall of Famer.
Two, the Cardinals' chances of re-signing Pujols just went up, even if only a little bit. The Cardinals will use any drop in performance against him in the upcoming contract negotiations. Pujols' camp will counter that it was a fluke injury, but this, combined with his slow start, history of injuries (plantar fasciitis, torn ligament in right elbow), and age will most likely lower his demands and increase the chances that the Cardinals will keep him in a jersey until he decides to hang it up.
This injury will be a blow to the Cardinals' lineup for sure, but it hopefully won't knock them out of the race. This is one of the most resilient Cardinals teams in recent years, and other teams have overcome the loss of superstars before.