Previewing the 2012 St. Louis Cardinals – Left Field
Hey there, sorry for the hiatus. I'm sure both of you noticed.
Matt Holliday, 7
2011 statistics – .296/.388/.525, 22 HR, 75 RBI, 0 SB, All Star
2011 was a pretty weird season for Matt Holliday.
There was the time he got appendicitis.
There was the time he got a moth in his ear.
There was the time he dropped the ball in Game 6.
In spite of these weird events, Holliday actually had a pretty decent regular season. He played in just 124 games, his lowest total since his rookie year, but he still managed to get on base and slug at close to his career pace, and as late as June 18, he was hitting over .350. For the sixth straight year, his OPS was over .900, and he should be fully healthy heading into the season.
Holliday's been consistently one of the top hitters in the league the last few seasons, last year notwithstanding. His swing is atypically off-balance; watch his swing, and he has the tendency to shift his weight forward, which is somewhat unusual for a slugger.
Compare how forward his torso is to the swing of, say, Albert.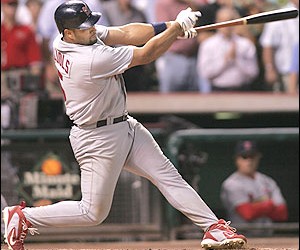 Or Lance Berkman: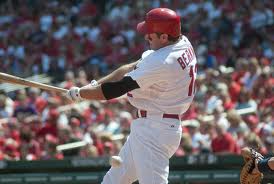 In most cases, a hitter (especially one with a high slugging average) only shifts his weight forward when he's fooled by a pitch that's low or away; Holliday, on the other hand, seems to thrive with the shift, as he has the capability to simply crush the ball. It's not the method most hitting coaches would advocate, but hey, it works for him.
Fielding-wise, Holliday will most likely never earn a Gold Glove, although he did finish second in the voting this season. He has a decent arm for a left fielder and will consistently get seven or eight assists from left field. Still, Matt will likely be remembered for his shortcomings in left than his successes, although Cardinals fans won't forget his assist at home plate in game 3 of the World Series.
Holliday had a pretty rough World Series overall, there's no getting around it. He got outhit by Nick Punto (.214/.421/.214 to .158/.385/.211), and he had to miss the final game when he got a contusion on his hand sliding into third base. After the series, fans were pretty hard on Holliday, evidently forgetting that Holliday was an absolute beast during the NLCS, when he hit .435/.500/.652 with a home run and five RBI.
Holliday just turned 32, and he's approaching the point at which hitters begin to slow down. Still, Matt's been anything but a typical hitter during his career. Here's hoping he has a 3-4-5 (.300/.400/.500) season like we're accustomed to seeing.
Adron Chambers, 56
2011 statistics – .375/.375/.625, 0 HR, 4 RBI, 0 SB
Chambers is projected to be a fifth outfielder, at least until Allen Craig comes back. If Chambers makes the team out of spring training, he'll easily be the fastest player on the team. He's never stolen more than 22 bases in the minors, but the guy motors around the bases (in college, he was a cornerback at Ole Miss). He's hit for decent average in the minors (.279 hitter at the AAA level) and has displayed the ability to get on base (.371 OBP at Memphis). Once Craig comes back, Chambers is likely to be sent back to Memphis, but he could prove invaluable as a reserve.
Watch out for:
Oscar Taveras
Of all the Cardinals' hitting prospects in the minor, this guy just might have the most upside. He's quite young, only 19, but he's already spent two seasons in the Cardinals' farm system. After hitting .303 at two rookie levels in 2010, he moved up to the Midwest league and absolutely crushed.
In just 78 games (he missed a good chunk of the season due to injury), he hit .386/.444/.581 with eight HR and 62 RBI in 347 plate appearances. He's got an unusual swing, and it'll be interesting to see how he adapts to higher-level pitching. It's likely he'll start off 2012 at high A Palm Springs, but if he continues to tear it up, look for him to reach the big leagues late 2014.