Preview: KSHE 95's Stevie Ray Vaughn Tribute Nov. 25 at The Pageant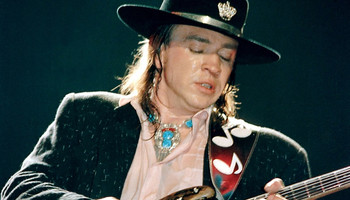 On Saturday November 25th 2017, KSHE 95 is welcoming a Stevie Ray Vaughn Tribute to The Pageant in St. Louis, Mo.  
An evening of revival is planned to honor the blues rock pioneer Stevie Ray Vaughn of Double Trouble through the musicianship of the Steve Pecaro Band, Tom Campanella Band, and Mike Zito. These groups are veterans' that have rocked out and gracefully contributed to the annual SRV Tribute at previous shows. The timeless vision of Stevie Ray Vaughn and Double Trouble can still live on in spirit through this night of Texas bluesy swing, fierce licks, and thunderous soul.
Stevie Ray Vaughn was an American musician, singer, songwriter, and producer that became known as one of the most influential guitarists and revivalist of the blues in the 80s. He was destined for greatness by experimenting with his brother Jimmies guitar and becoming consumed by the exclusive flourishing Texas blues scene. Vaughn's authenticity prospered in the Oak Cliff neighborhood of Dallas, which has been attributed to spawning jazz guitarist Charlie Christian and electric blues guitarist T- Bone Walker.  He thrived with performances at the legendary "Antones" in Austin, which was the self proclaimed breeding ground that connected big names like Muddy Waters, Albert King, and Buddy Guy to the new generation of blossoming blues musicians. Vaughn transitioned through several bands while trying to cultivate his own vision, despite the era moving into MTV pop and mainstream. He dug deeper into his Texas roots with the formulation of "Double Trouble", consisting of drummer Chris Layton, Tommy Shannon on bass. The groups bittersweet moment came after being booed off stage at the legendary Montreux Jazz Festival, fatefully catching the attention of David Bowie and Jackson Browne. This opened the door for Vaughn to feature his Texas blues guitar solos onto David Bowie "Let's Dance" album and the production of Double Troubles' first album "Texas Flood" in Jackson Browne's studio. The albums grit gained them notoriety with jazz runs, fiery licks, and rockabilly swing. A quick secession of back to back albums led Vaughn into grasping for inspiration by adding keyboardist Reese Wynans, but lost focus with excessive alcohol and drug use through "Soul to Soul". He found redemption through rehab and testified his new found sobriety by stepping in the right direction with the "In Step" Album. Although Stevie Ray Vaughn was tragically killed in a helicopter crash in 1990, his legacy and influence did not cease at his death. He forged a tone that is still thriving through the strings of multigenerational guitar virtuosos he inspired. He earned six Grammy Awards, was inducted into the Blues Hall of Fame, and the Rock and Roll Hall of Fame.
The Steve Pecaro Band are veterans of the southern bluesy rocker rhythm and are known for being a highlight to the annual Stevie Ray Vaughn Tribute with a handsomely displayed rendition. The Tony Campanella Band is going to feature the heavy electric blues hybrid of the gut wrenching soul, reminiscent of SRV. The blues man Mike Zito will bring his own gritty finesse of balance between rock and soul keeping the integrity of Stevie Ray's contributions. When sticking to the guns, we can all hope for some showmanship with the behind the back solo jamming, teeth plucking, and some wide brimmed gaucho hat tips in gratitude of the Texas blues legend of Stevie Ray Vaughn.
KSHE 95 will be paying tribute to legacy of Stevie Ray Vaughn at The Pageant on Saturday November 25th 2017. Doors open at 7 p.m. and show starts at 8 p.m. This is a 21+ age event. All ticket options can be viewed on ticketmaster.com