Pictures From Cinematic Titanic at the St. Charles Family Arena on Saturday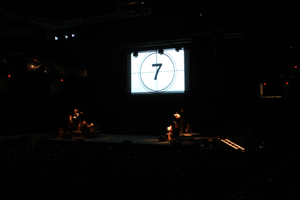 ReviewSTL.com had the chance to check out Cinematic Titanic last Saturday, at the St. Charles Family Arena. A few days before the show, we caught up with Joel Hodgson (the creator of Mystery Science Theater 3000) and were able to ask him some questions about the show, his career, and of course – MST3K. Check out the interview here.
From cinematictitanic.com —
Cinematic Titanic, the new feature-length movie riffing show from the creator and original cast of Mystery Science Theater 3000, continues the tradition of riffing on the unfathomable, the horribly great, and the just plain 'cheesy' movies of the past.
With seven feature-length episodes available on DVD and for download, and an ever-growing schedule of live shows, the CT crew is reconnecting with MSTies around the world as well as bringing new fans to the comedy art form first introduced by this group 20 years ago on television. Sign up for the email club and find out what's new on DVD, where you can see Cinematic Titanic live, and all the latest news. Join us, won't us?
Check out some of the photos from Cinematic Titanic on Saturday: