Photos and Review: Louis Tomlinson opens concert season at St. Louis Music Park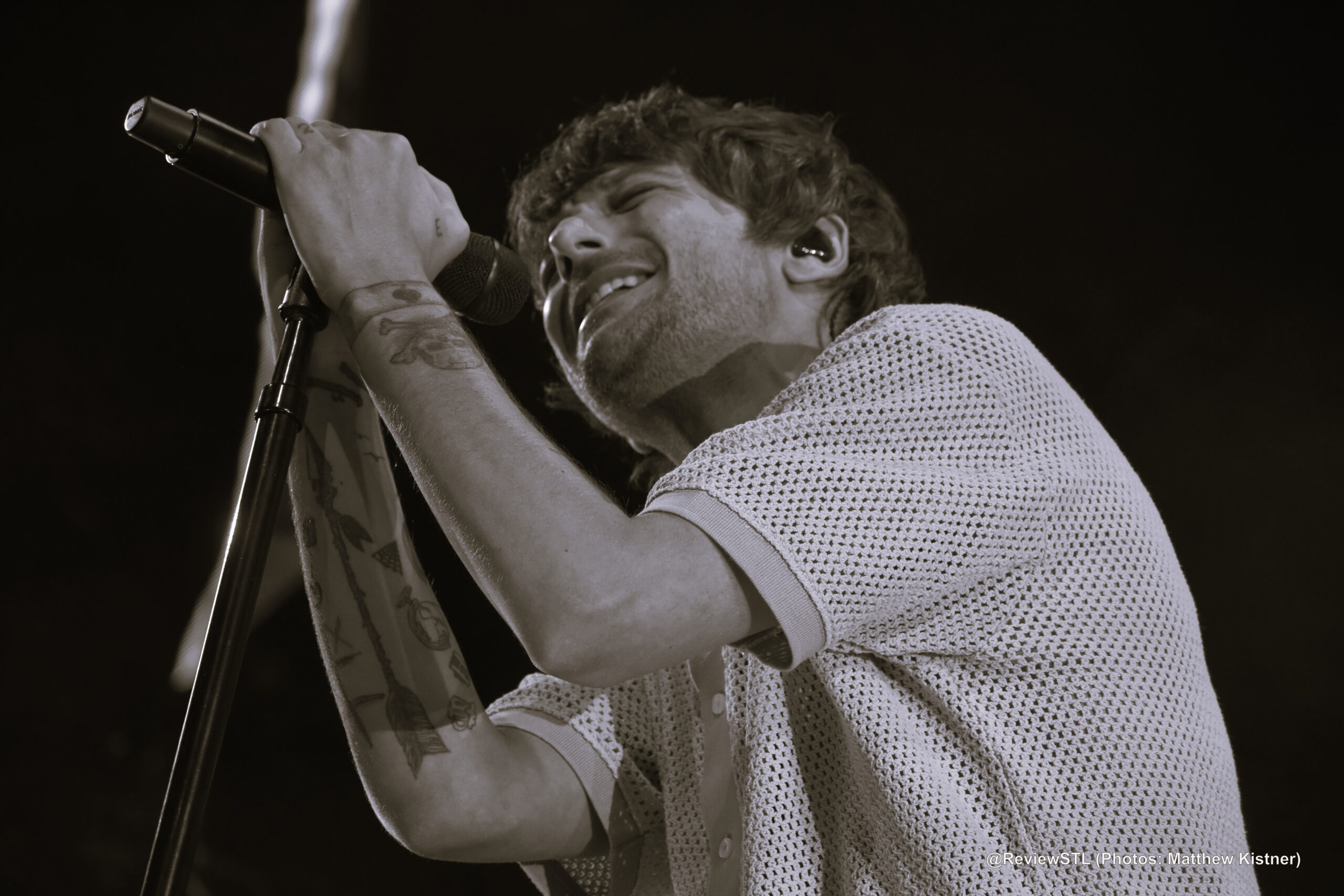 Louis Tomlinson brought his "Faith in the Future World Tour" to the STL Music Park this past
Friday evening. One fifth of the boy band One Direction sure knows how to fill a music venue with die-
hard fans, and to say this concert was a celebration of Louis just as much as his fans would be an
understatement. Concert goers of all ages filled out the music park with signs and merch celebrating the
tour of the singer's sophomore solo album.
Opening the stage was Snarls, hailing from Ohio and serving the crowd a garage grunge punk
vibe and brought in a fair amount of fans of their own, as did the following act, The Academic. The
second set saw loyal fans who belted the lyrics to several of the hits from the Irish indie rock group.
When Louis Tomlinson walked on to the stage it seemed that time stood still for just a moment,
and I was in complete awe of how he was received. Again, I have to say, this concert was just as much
about his relationship with his fans as it was his music. In fact, there was even some organized
participation from fans that created some magical moments. For example, if your Airdrop was on, you
sure did receive not only a fun collection of pictures of Louis, but also instructions on what to do during
certain moments in his set, such as holding up photos that said "Superman" during his song "Lucky
Again," because the fan stated, "I want Lou to feel super special," in a second airdropped set of
instructions.
LGBTQ+ advocacy group Rainbow Direction also arranged a map of the venue prior to the day of
the concert, with volunteers handing out different colored sheets of paper to be placed in front of
everyone's phone flashlights that created a rainbow effect that spread across the entire venue during
"Copy of a copy of a copy." When I say his fans are loyal, creative, dedicated, and deserve every ounce
of energy he put into his performance, I mean it.
The spunk did not let up as the show continued on showcasing hits from both Tomlinson's
albums and even a One Direction and Arctic Monkey's Cover. There wasn't one song where fans weren't
screaming the lyrics alongside Louis and a complation of barking and whooping in between almost every
song (I believe this is a One Direction fan thing, not entirely sure.) His set was fantastic, he sounded
incredible, and the pyrotechnics and simplistic elements of showmanship curated a concert that was
equal parts spectacle and talent. Even if you didn't know every song, you sure felt like you did,
surrounded by dedicated fans giving a willing assist in helping belt out lyrics to the different hits. Check
out the setlist below!
Setlist:
The Greatest
Kill My Mind
Bigger Than Me
Lucky Again
Holding on to Heartache
Face the Music
We Made It
Night Changes (One Direction song)
Chicago
Saved by a Stranger
Written All Over Your Face
All This Time
She Is Beauty We Are World Class
High in California
Copy of a Copy of a Copy
Walls
505 (Arctic Monkeys cover)
Back to You
Angels Fly
Out of My System
Encore:
Saturdays
Where Do Broken Hearts Go (One Direction song)
Silver Tongues
Check out photos from the show below.