Paul Rodriguez, Skateborder, Wins the Gold at X Games 15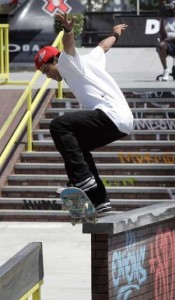 After 4 long years of skating back onto the top of the X Games podium, Paul Rodriguez captured the gold on Saturday at X Games 15th. This is after having became the only person to get the gold on two consecutive X Games, winning in both 2004 and 2005.
Rodriguez says that it is …"a huge itch and it finally got scratched," and of course that "it feels great."
Amazingly the runner-up of the competition was 14-year-old Nyjah Huston, who competed in his THIRD X Games. He is going to be around for a long, long time. Huston came in 2nd Place with 364, compared to Rodriguez at 390.