Oscar Taveras Always in the Heart of Cardinal Nation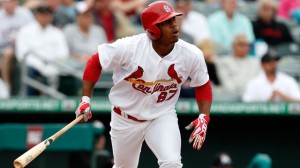 One week ago, Cardinal's nation was dealing with the calamity of being eliminated from the post season by the San Francisco Giants. Today, that loss is put into perspective, by the true tragedy of the death of 22-year old outfielder Oscar Taveras. Early Sunday evening, the sports world was shocked to learn that Taveras and his girlfriend, Edilia Arvelo, 18, were killed in a car accident near Taveras' hometown of Puerto Plata in the Dominican Republic. According to Lt. Col. Jose Armando Brito of the Dominican Republic National Police, Taveras lost control of his Chevy Camaro going around a curve and crashed into a tree at 7:40 p.m. ET. Taveras and Arvelo were taken to Sosua Cabarete Medical Center where they died from injuries sustained in the crash. The accident is still under investigation but it is believed that wet roads and excessive speed may have been contributing factors of the accident.
The news of Taveras' death Sunday broke just as the World Series game 5 was starting and many of his teammates took to social media to exhibit their grief. Kolten Wong (@KoltenWong) tweeted "Wow! My heart truly hurts to hear the passing of Oscar! I've played with him every year and we truly lost a great person! #RIPOscarTaveras."
Cardinals chairman Bill DeWitt Jr. stated, "We are all stunned and deeply saddened by the tragic loss of one of the youngest members of the Cardinals family. Oscar was an amazing talent with a bright future who was taken from us well before his time. Our thoughts and prayers are with his family and friends tonight."
A memorial service for Taveras was scheduled for Monday night with a funeral planned for Tuesday afternoon. Cardinal's manager Mike Matheny, GM John Mozeliak, and several teammates including Yadier Molina and Carlos Martinez were expected to attend.
On Monday morning Matheny issued an official statement, "I was asked last night to give some words regarding the tragic death of Oscar Taveras, but I just simply couldn't. First of all, it felt like a bad dream that could not be real, and when reality kicked in, my words didn't even seem to make sense. To say this is a horrible loss of a life ended too soon would be an understatement. To talk about the potential of his abilities seemed to be untimely. All I wanted to do was get the guys together and be with our baseball family. I know the hurt that comes along with buying into the brotherhood of a baseball team. That hurt is just as powerful as the joys that come with this life. Not to say it is even close to the depth of pain his true family is going through, but the pain itself is just as real. The ache is deep because the relationships were deep, and forged through time and trials. To the many fans who have already reached out with condolences, and to the many more who are in mourning, thank you for taking these players in, like they are one of your own. This level of care is what sets our fans apart. In my opinion, the word 'love' is the most misused and misunderstood word in the English language. It is not popular for men to use this word, and even less popular for athletes. But, there is not a more accurate word for how a group of men share a deep and genuine concern for each other. We loved Oscar, and he loved us. That is what a team does, that is what a family does. You will be missed, Oscar."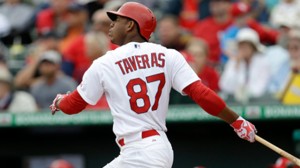 Taveras was signed by the Cardinals on November 15th 2008 as an undrafted amateur free agent and at the age of 17 played for the Cardinals Dominican Summer League team in 2009. In 2010, the Cardinals organization brought Taveras to the states where he played for Rookie League affiliate Johnson City. Taveras quickly made his mark batting .322 with 43 RBIs in 53 games. The following season the then 19-year-old Taveras was promoted to Single-A Quad Cities where his hot hitting continued, batting .386 with 62 RBIs in 78 games. This was enough for the ranking bodies to take note of Taveras. Following his 2011 season with Quad Cities, Taveras was ranked as the #74 prospect by Baseball America, and #23 by Baseball Prospectus. Those rankings would continue to rise the following season as Taveras scorched the Texas League for Double-A Springfield. By midseason, Taveras was considered the #3 prospect in baseball by both Baseball America and Baseball Prospectus, as well as by MLB.com. Taveras finished the season in Springfield, batting .321 with 23 homeruns and 94 RBIs, making his first of two appearances in the MLB Futures Game and playing in the Texas League All-Star Game, in which he won the MVP. Following the 2012 season, Tavares received numerous awards and honors including: Cardinals Organization Player of the Year, Cardinals Minor League Player of the Year, Texas League Player of the Year, Texas League Top Prospect, Texas League's Most Exciting Player, Texas League's Best Batting Prospect, Baseball America Minor League All-Star, Topps Texas League Player of the Year, and the Topps Double-A All-Star.
After a season and a half playing for Triple-A Memphis, the 21-year old Taveras made his much anticipated major league debut on May 31st 2014. He didn't disappoint. With one out in the bottom of the 5th, Taveras stepped to the plate for his second major league at bat. A light rain began to fall, and I began putting my son's snacks back into our bag to keep them dry.   Moments later, Taveras drove Yusmeiro Petit's 1-0 pitch over the right field bullpen, slicing through the falling rain drops to land mere feet away from my seats. I, along with 40,000+ other fans, celebrated the young phenom's first major league homerun. I remember telling my three-year-old son, who was more excited about the fireworks, how special the day was for him to be at the game where Taveras hit his first, and that it would be something he would think was really cool when he got older. Unfortunately that would be the only Taveras homerun my son would see. Taveras' bat cooled off and he was up and down between the majors and minors before being called up for good, following the trade of Allen Craig at the end of June. In total, Taveras played 80 games for the club during his rookie season, batting .239 with three homeruns and 22 RBIs. He did make the postseason roster as well for the club. In what would be his final appearance in front of fans at Busch Stadium, Taveras belted a game-tying pinch-hit home run in the bottom of the 7th inning of the NLCS Game 2, the only game of the series the Cardinals would win.
A makeshift memorial to Taveras has formed outside of Busch Stadium gate three, where fans have been placing mementos, candles, and flowers to pay respects to the fallen Cardinal. Mozeliak stated that Taveras will be remembered in a special ceremony in St. Louis, but details for that service have not yet been finalized. Rest in Peace Oscar; you will be missed.
Dave Sanders is a sports economist and instructor of economics at St. Louis University. He can be contacted at [email protected]