Official Intern for Fox's "POST GRAD" Blogs From Inside Studio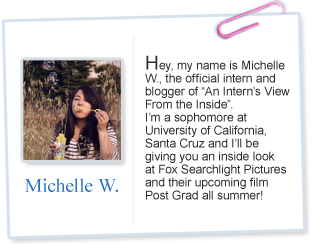 Here is something pretty unique that Fox Searchlight is doing to promote their new film, "POST GRAD." Fox is having their "official intern and blogger," Michelle W., keep a blog about the film, and what it is like to work inside the studio on the project.
Here is a video, and introduction from Michelle W.

"Hey, my name is Michelle W., the official intern and blogger of "An Intern's View From the Inside". I'm a junior at University of California, Santa Cruz and I'll be giving you an inside look at Fox Searchlight Pictures and their upcoming film Post Grad all summer.
Even though I'm a film major, the last time I went to Los Angeles I was seven. My perspective of LA is completely skewed because all I remember is taking a picture with Princess Jasmine and almost wetting myself on the Space Mountain ride. LA is the motherland for all film majors and it's a completely different battleground than I'm used to. I've lived in San Francisco all my life and from what I've learned from Laguna Beach or The Hills, LA appears to be new, foreign territory. To be completely honest with you, I'm nervous. Should I dye my hair blonde and get a fake tan? My skin is so pale, I don't even think I'm capable of getting a tan. San Francisco weather usually consists of a thin layer of fog masking the bay and I don't even own a pair of shorts!
I've done part-time film related internships since high school. In high school, I worked as a set photographer for several student and independent films in San Francisco. Each day when the clock struck 3:30, I would take the bus to the film set and usually be there until 10 at night. Making movies has always been in my system and hopefully, I can learn more about the production process. I remember I had this internship answering fan letters for a band. It was absolutely ridiculous because half the letters were marriage proposals to the band. Little did the fan letters know, I, the lowly intern, was typing up a polite response and mailing off the autographed pictures.
I really just don't know what to expect from this internship, but however great the challenge may be, I'm ready for it.
I can already tell this is going to be a summer to remember."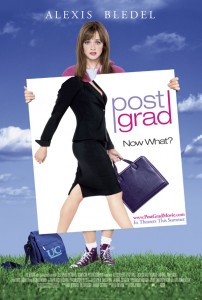 About the film:
The film stars Alexis Bledel, Zach Gilford, Rodrigo Santoro, Jane Lynch, and features Carol Burnett and Michael Keaton. In the comedy, Ryden Malby (played by Bledel) has graduated from college and has to move back home while she job hunts. Of course to make the story interesting, she has an eccentric family, and of course will get into awkward situations while trying to find the perfect guy and perfect job.
Check out the blog at www.postgradintern.com.