Official "Green Hornet" HD Trailer Starring Seth Rogen, Jay Chou, and Cameron Diaz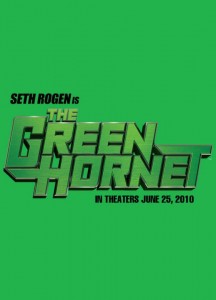 Despite that this has been pushed back from a Christmas release to a January release date, and their has been rumors of reshoots, I can't help but be excited about the Green Hornet.  Sure, I'm a bit apprehensive about some of the choices, but there are a handful of choices that have me excited. The first of which is casting the wonderfully talented Christoph Waltz as the main villain. Jay Chou looks equally capable as Kato, but has some big shoes to fill.
Now, for a bit of negativity. I still can't get into Seth Rogen as a leading man in an action film. Don't get me wrong, I believe the guy is talented, and can easily carry a straight comedy. Throw in a high does of action, and my faith in him goes down a bit. I'm hoping that he proves me wrong. The other thing I'm a little worried about, is that the trailer did nothing to really wow me. In fact, I was left with the feeling that it might come off as a bit stupid. I'm not going to write it off though, it is still highly anticipated for me.
Synopsis:
Britt Reid is the son of LA's most prominent and respected media magnate and perfectly happy to maintain a directionless existence on the party scene — until his father mysteriously dies, leaving Britt his vast media empire. Striking an unlikely friendship with one of his father's more industrious and inventive employees, Kato, they see their chance to do something meaningful for the first time in their lives: fight crime. But in order to do this, they decide to become criminals themselves — protecting the law by breaking it, Britt becomes the vigilante The Green Hornet as he and Kato hit the streets.
Using all his ingenuity and skill, Kato builds the ultimate in advanced retro weaponry, The Black Beauty, an indestructible car equal parts firepower and horsepower. Rolling in a mobile fortress on wheels and striking the bad guys with Kato's clever gadgets, The Green Hornet and Kato quickly start making a name for themselves, and with the help of Britt's new secretary, Lenore Case, they begin hunting down the man who controls LA's gritty underworld: Benjamin Chudnofsky. But Chudnofsky has plans of his own: to swat down The Green Hornet once and for all.
Director: Michael Gondry
Starring: Seth Rogen, Cameron Diaz, Christoph Waltz, Jay Chou, Tom Wilkinson
Release Date: January 14, 2011
[hdplay id=37 width=595 height=375]