'Now You See Me' Opens May 31! Enter to Win Passes to the St. Louis Advance Screening!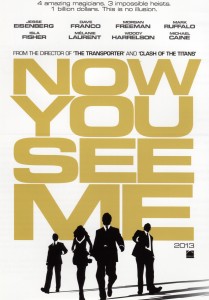 Enter to win a pass for two!
The Four Horsemen, a magic super-group led by the charismatic J.Daniel Atlas (Jesse Eisenberg), perform a pair of high-tech, high-profile magic shows, first amazing audiences by remotely robbing a Paris bank while in Las Vegas, and then exposing a white-collar criminal and funneling his millions into the audience members' bank accounts, baffling the authorities with their intricately planned capers.
FBI Special Agent Dylan Rhodes (Mark Ruffalo) is determined to make the magicians pay for their crimes—and to stop them before they pull off what promises to be an even more audacious heist. But he's forced to partner with Alma (Mélanie Laurent), an Interpol detective about whom he is instantly suspicious. Out of desperation, he turns to Thaddeus Bradley (Morgan Freeman), a famed magic debunker, who claims the Paris bank trick was actually a meticulously planned illusion. Dylan and Alma begin to wonder if the Horsemen have an outside point person. If so, finding him (or her) would be the key to ending the magicians' crime spree. But who could it be? Or could it really be… magic?
As pressure mounts and the world awaits the Horsemen's spectacular final trick, Dylan and Alma race to stay one step ahead of the magicians. But it soon becomes clear that outmaneuvering these masters of illusion is beyond the skills of any one man—or woman.
Cast: Jesse Eisenberg, Mark Ruffalo, Woody Harrelson, Melanie Laurent, Isla Fisher, Dave Franco, Common, Michael Kelly, Michael Caine, Morgan Freeman
Director: Louis Leterrier
NOW YOU SEE ME opens Friday, May 31!
Use the contest app below to "like" ReviewSTL on Facebook  – then tweet, share, or comment for additional entries!
Winners will be chosen at random from all entries. Supplies are limited. Limit one (1) pass per person, passes admit (2) two. Sponsor's employees and their dependants are ineligible. Screening is overbooked to ensure capacity. Please refer to passes for any other possible restrictions. NO PURCHASE NECESSARY.
Screening will take place Wednesday, May 29 at Regal Gravois Bluffs (7pm).