NON-STOP opens February 28! Enter to Win Passes to the St. Louis Advance Screening!
Enter to win a pass for two!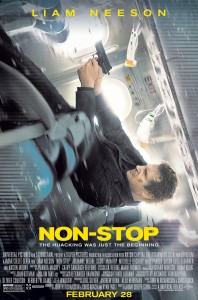 Global action star Liam Neeson stars in Non-Stop, a suspense thriller played out at 40,000 feet in the air. During a transatlantic flight from New York City to London, U.S. Air Marshal Bill Marks (Neeson) receives a series of cryptic text messages demanding that he instruct the airline to transfer $150 million into an off-shore account. Until he secures the money, a passenger on his flight will be killed every 20 minutes. The film reunites Neeson with Unknown director Jaume Collet-Serra and producer Joel Silver, and co-stars Golden Globe Award winner Julianne Moore.
Cast: Liam Neeson, Julianne Moore, Anson Mount, Michellle Dockery, Corey Stoll
Director: Jaume Collet-Serra
Non-Stop has been rated PG-13 for intense sequences of action and violence, some language, sexuality and drug references.
Leave a comment below and tell us why you can't wait to see the movie to enter!
Winners will be chosen at random from all entries. Supplies are limited. Limit one (1) pass per person, passes admit (2) two. Sponsor's employees and their dependents are ineligible. Screening is overbooked to ensure capacity. Please refer to passes for any other possible restrictions. NO PURCHASE NECESSARY.
Screening will take place Tuesday, February 25th (Ronnies – 7pm).