New Trailer for Christopher Nolan's 'Inception' – HD Trailer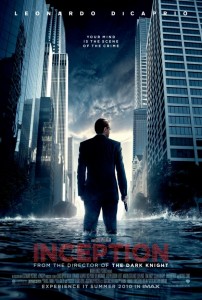 Words cannot even describe how excited I am for this film. I still don't think Christopher Nolan has made a bad film. The Dark Knight put him on a whole other level, and gives him the kind of leverage to make films that he wants, and how he wants.  I'm hoping that he can continue to offer the kind of quality he has so far. I can't name a single director who has batted a thousand.  There is no doubt that Nolan has his own unique visual style, and this film looks to be perfect for his type of filmmaking. Although, be prepared for some people to say it ripped off The Matrix since it involves the power of the human mind.
I'm sure a lot of people are with me on this, but I think this is my most anticipated movie of 2010!
Synopsis:
A contemporary science fiction thriller about a corporation that has developed a technology that can enter dreams and extract information from the human mind.
Cast: Leonardo DiCaprio, Ken Watanabe, Joseph Gordon-Levitt, Marion Cotillard, Ellen Page, Tom Hardy, Cillian Murphy, Tom Berenger, Michael Caine
Director: Christopher Nolan
Genres: Action, Science Fiction
Release Date: July 16, 2010