New Superhero Stuff — Green Lantern, The Avengers
Not a day goes by where I can't find new superhero stuff to post.  It's easy to see why.  4 of the summer's biggest blockbusters hitting theaters this summer as well as THE AVENGERS now filming with THE DARK KNIGHT RISES beginning to film next month.  It is quite an exciting time.
Let's start with GREEN LANTERN.  Today we got two new posters from the film, but these do know feature our titular character.  Instead the focus is on Sinestro (Mark Strong) and Kilowog (Michael Clarke Duncan).  Okay posters, but the CGI still looks shady in my opinion.  Funny I should mention that because the studio actually just invested a measily $9 million more into the film to fine tune the visual effects.  Not a good sign in my book.
As I mentioned yesterday, THE AVENGERS went into production today.  Is this the biggest superhero film of all time?  Will it be an absolute disaster?  I don't have those kinds of answers, but I do have the first set photos of the film!!!!  Yeah I know.  It is actually quite lame.  The press release for THE AVENGERS follows.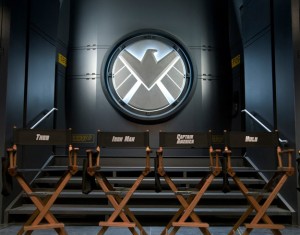 Production has commenced today in Albuquerque, New Mexico on Marvel Studios' highly anticipated movie "Marvel's The Avengers," directed by Joss Whedon ("Serenity") from a screenplay by Whedon.  The film will continue principal photography in Cleveland, Ohio and New York City. Robert Downey, Jr. ("Iron Man," "Iron Man 2") returns as the iconic Tony Stark/Iron Man along with Chris Hemsworth ("Thor") as Thor, Chris Evans ("Captain America: The First Avenger") as Captain America, Jeremy Renner ("Thor," "The Hurt Locker") as Hawkeye, Mark Ruffalo ("The Kids Are Alright") as Hulk, Scarlett Johansson ("Iron Man 2") as Black Widow, Clark Gregg ("Iron Man," "Thor") as Agent Phil Coulson, and Samuel L. Jackson ("Iron Man," "Iron Man 2") as Nick Fury.  Set for release in the US on May 4, 2012, "Marvel's The Avengers" is the first feature to be fully owned, marketed and distributed by Disney, which acquired Marvel in 2009.

Continuing the epic big-screen adventures started in "Iron Man," "The Incredible Hulk," "Iron Man 2," "Thor," and "Captain America: The First Avenger," "Marvel's The Avengers" is the super hero team up of a lifetime. When an unexpected enemy emerges that threatens global safety and security, Nick Fury, director of the international peacekeeping agency known as S.H.I.E.L.D., finds himself in need of a team to pull the world back from the brink of disaster. 

Based on the ever-popular Marvel comic book series, first published in 1963, "Marvel's The Avengers" brings together the mightiest super hero characters as they all assemble together on screen for the first time. The star studded cast of super heroes will be joined by Cobie Smulders ("How I Met Your Mother) as Agent Maria Hill of S.H.I.E.L.D., as well as Tom Hiddleston ("Wallander") and Stellan Skarsgård ("Angels & Demons," "Mamma Mia!") who will both reprise their respective roles as Loki and Professor Erik Selvig from the upcoming Marvel Studios' feature "Thor."

"Marvel's The Avengers" is being produced by Marvel Studios' President, Kevin Feige, and executive produced by Alan Fine, Stan Lee, Louis D'Esposito, Patty Whitcher, and Jon Favreau. Marvel Studios' Jeremy Latcham and Victoria Alonso will co-produce.

The creative production team also includes Oscar nominated director of photography Seamus McGarvey ("Atonement"), production designer James Chinlund ("25th Hour"), Oscar winning costume designer Alexandra Byrne ("Elizabeth: The Golden Age"), Oscar winning visual effects supervisor Janek Sirrs ("Iron Man 2," "The Matrix"), visual effects producer Susan Pickett ("Iron Man," "Iron Man 2"), stunt coordinator R.A. Rondell ("Superman Returns"), and four-time Oscar nominated special effects supervisor Dan Sudick ("Iron Man," "War of the Worlds"). The editors include Oscar nominated Paul Rubell ("Collateral") and Jeffrey Ford ("Crazy Heart").

Marvel Studios most recently produced "Iron Man 2" which was released in theatres on May 7, 2010. The sequel to "Iron Man," starring Robert Downey, Jr. and Gwyneth Paltrow as well as Don Cheadle, Scarlett Johansson and Mickey Rourke, took the number one spot its first weekend with a domestic box office gross of $128.1 million. To date the film has earned over $620 million in worldwide box office receipts.

In the summer of 2008, Marvel produced the summer blockbuster movies, "Iron Man" and "The Incredible Hulk."  "Iron Man," in which Robert Downey, Jr. originally dons the super hero's powerful armor alongside co-stars Terrence Howard, Jeff Bridges and Gwyneth Paltrow, was released May 2, 2008 and was an immediate box office success. Garnering the number one position for two weeks in a row, the film brought in over $100 million its opening weekend and grossed over $571 million worldwide. On June 13, 2008, Marvel released "The Incredible Hulk" marking its second number one opener of that summer. The spectacular revival of the iconic green goliath grossed over $250 million in worldwide box office receipts.