New "Shrek Forever After" HD Trailer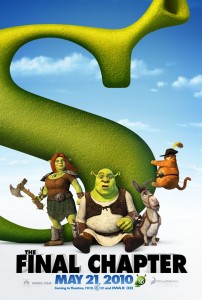 Shrek is back again, and I'm beginning to care less and less. The first film was a solid spoof, and remains one of my favorite animated films of the past ten years, but the series has gotten worse with each successive film. I'm hoping they break that trend, but the current trailers don't make me so optimistic.  This latest one gives us a bit more of a rundown of what is happening in the land of Far Far Away. Shrek has made his deal with the devil (aka Rumpelstiltskin), and has been transported to another reality where everything has changed.
They are billing this as the last Shrek film, but I was pretty sure I remembered hearing that they were planning on ending with a trilogy at one time. If the series is still lucrative, I would bet we see another Shrek film. Especially when you consider that its cast of stars has been aging, and none of them have had a true live action hit in some time. Let us know what you think of this trailer in the comments below!
Synopsis:
After challenging an evil dragon, rescuing a beautiful princess and saving your in-laws' kingdom, what's an ogre to do? Well, if you're Shrek, you suddenly wind up a domesticated family man. Instead of scaring villagers away like he used to, a reluctant Shrek now agrees to autograph pitch forks. What's happened to this ogre's roar? Longing for the days when he felt like a "real ogre," Shrek is duped into signing a pact with the smooth-talking dealmaker, Rumpelstiltskin. Shrek suddenly finds himself in a twisted, alternate version of Far Far Away, where ogres are hunted, Rumpelstiltskin is king and Shrek and Fiona have never met. Now, it's up to Shrek to undo all he's done in the hopes of saving his friends, restoring his world and reclaiming his one True Love.
Starring: Mike Myers, Eddie Murphy, Cameron Diaz, Antonio Banderas
Directed by: Mike Mitchell
Produced by: Aron J. Warner, Andrew Adamson, John H. Williams
Release Date: May 21, 2010