New Saw VI Trailer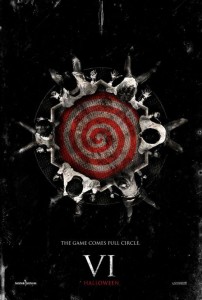 Alright folks here we have another new trailer for the new Saw film, already on its sixth installment. I can't decide whether to be disgusted or proud of them. I have said many times that I'm not that big of a fan of the horror genre, mainly because of films like the Saw series. I don't really like watching people get hurt in new disgusting ways. As cheesy as it sounds, I really like to leave the theater feeling good.
Here is one thing I have to about the Saw films, does it seem with every new one they make, it looks closer to a straight to DVD sequel? It looks like the studios realize you don't have to put much effort into a Saw movie to see some returns. Why spend money on a good DP, good actors, and a good director when you can get the same kind of gross, but pay less for the product?
Synopsis:
Special Agent Strahm is dead, and Detective Hoffman has emerged as the unchallenged successor to Jigsaw's legacy. However, when the FBI draws closer to Hoffman, he is forced to set a game into motion, and Jigsaw's grand scheme is finally understood.