New "Prince of Persia: Sands of Time" Featurette Featuring Jake Gyllenhaal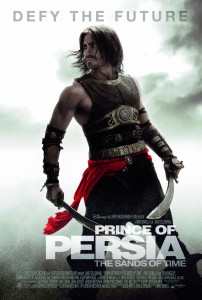 Prince of Persia: Sands of Time is yet another of the big summer features that I'm not sold on yet.  First of all, I do like Jake Gyllenhaal, but not in this role. He's a solid actor, but he doesn't scream action star.  Although, the biggest thing is he doesn't look like he should be a prince in Persia. Add on top of this some extremely cheesy looking special effects that are being rammed down our throats in the trailers.
Luckily, there are a couple bright spots. Everyone loves watching parkour. Gemma Arterton is amazingly beautiful, and at least you can look at her if the story gets boring. The story is based on one of the best told stories ever in video games. So, it may not be a total bust.
Synopsis:
Set in 9th century medieval Persia, a young adventurous prince uncovers a dangerous artifact in a remote mountain kingdom and with the help of an enemy princess, must stop a despot from unleashing a sandstorm that could destroy all mankind.
Cast: Jake Gyllenhaal, Gemma Arterton, Ben Kingsley, Alfred Molina
Director:Mike Newell
Genres: Costume Adventure, Adventure
Release Date: May 28, 2010