New "MacGruber" Red Band Trailer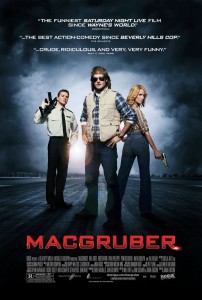 Up until this point I had been pleasantly surprised at the promotional items that had come out for MacGruber.  The trailers have been top notch, but this one looks like a silly trailer that they used to put before VHS tapes when I was a kid. Which in all honesty, might have been what they were going for.  Which if they did, kudos to them. I'm pretty convinced that this is going to be a love it or hate it affair. (Much like The Lonely Island's last attempt, Hot Rod.) I'm a big fan of quirky throwback humor, and if done well they can turn it into a valuable franchise. Just look at the success of something like Austin Powers as an example.
Note: I think the Eagles of Death Metal have more songs featured in trailers this year than any other band.
Synopsis:
Only one American hero has earned the rank of Green Beret, Navy SEAL and Army Ranger. Just one operative has been awarded 16 purple hearts, 3 Congressional Medals of Honor and 7 presidential medals of bravery. And only one guy is man enough to still sport a mullet. In the 10 years since his fiancee was killed, special op MacGruber has sworn off a life of fighting crime with his bare hands. But when he learns that his country needs him to find a nuclear warhead that's been stolen by his sworn enemy, Dieter Von Cunth, MacGruber figures he's the only one tough enough for the job. Assembling an elite team of experts — Lt. Dixon Piper and Vicki St. Elmo — MacGruber will navigate an army of assassins to hunt down Cunth and bring him to justice. His methods may be unorthodox. His crime scenes may get messy. But if you want the world saved right, you call in MacGruber.
Cast: Will Forte, Ryan Phillippe, Kristen Wiig, Val Kilmer, Powers Boothe, Maya Rudolph
Director: Jorma Taccone
Genres: Parody/Spoof, Comedy
Release Date: April 16, 2010