New Dreamworks' "How To Train Your Dragon 3D" Trailer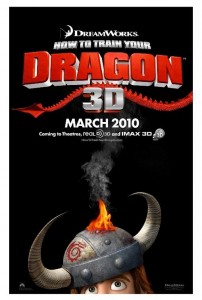 I can't help it, but I'm actually getting really excited about this movie. There is just something about all the trailers that seems exhilarating, all while being incredibly touching.  The animation looks crisp, and the action seems intense. It reminds me much of Dreamworks last major success, Kung Fu Panda.  Jay Baruchel's agent seems to be working overtime this year to get him roles.  He has two different films coming out in March, both at different ends of the spectrum. He has this film on the kid side, and then he has the raunchy comedy She's Out of My League coming out at the beginning of the month.  The everyman actor might see a break out year, with another two films yet to come in 201o. I have a feeling that this film might be his biggest of the year.
Synopsis:
A Viking teenager named Hiccup lives on the island of Berk, where fighting dragons is a way of life. The teen's smarts and offbeat sense of humor don't sit too well with his tribe or its chief… who just happens to be Hiccup's father. However, when Hiccup is included in Dragon Training with the other Viking teens, he sees his chance to prove he has what it takes to be a fighter. But when he encounters (and ultimately befriends) an injured dragon, his world is flipped upside down, and what started out as Hiccup's one shot to prove himself turns into an opportunity to set a new course for the future of the entire tribe.

Cast: Gerard Butler, America Ferrera, Jonah Hill, Jay Baruchel, Christopher Mintz-Plasse
Director: Chris Sanders
Genres: Children's/Family
Release Date: March 26, 2010