New Clip From TWILIGHT SAGA: ECLIPSE – "Doesn't He Own A Shirt?"
There is something that strikes me a bit odd about this clip from TWILIGHT SAGA: ECLIPSE. There is a certain awkwardness that I can't seem to get over. Of course there is akwardness between Jacob and Edward, but that's not what I mean. It's more like between Robert and Kristen, and Kristen and Taylor. Does anyone else sense it?
[hdplay id=7 width=595 height=375]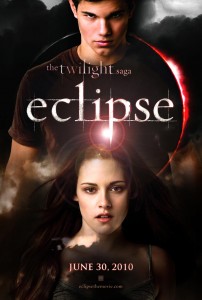 In ECLIPSE, Bella once again finds herself surrounded by danger as Seattle is ravaged by a string of mysterious killings and a malicious vampire continues her quest for revenge. In the midst of it all, she is forced to choose between her love for Edward and her friendship with Jacob — knowing that her decision has the potential to ignite the ageless struggle between vampire and werewolf. With her graduation quickly approaching, Bella is confronted with the most important decision of her life.
Running Time: 2 hr. 4 min.
Release Date: June 30th, 2010 (wide)
Rating: PG-13 for intense sequences of action and violence, and some sensuality.
Starring: Kristen Stewart, Robert Pattinson, Taylor Lautner, Ashley Greene, Jackson Rathbone, Nikki Reed, Kellan Lutz, Peter Facinelli, Elizabeth Reaser, Dakota Fanning, Cameron Bright, Bryce Dallas Howard, Jodelle Ferland
Directed By: David Slade