New 2009 Fall TV Shows – ABC
Hope your DVRs are ready folks! The new fall season is just around the corner. If you are anything like me I'm sure you'll have quite a few new shows you want to watch, and I'm sure you will have some you want to avoid.  Let's take a look at the new Fall pilots for ABC.
The Forgotten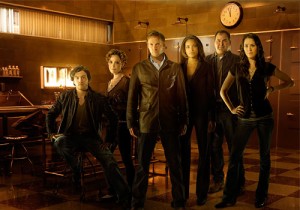 From executive producer Jerry Bruckheimer comes a crime show in which a team of dedicated amateurs work on cases involving unidentified victims. After the police have given up, this group must first solve the puzzle of the victim's identity in order to then help catch the killer. They work to give the deceased back their names, lest they become — The Forgotten.
Worth watching? If you are a fan of procedural's like CSI, NCIS, and The Mentalist, then this show is most likely for you. It focuses more on every day joes who get the job done when the police can't. Like all procedurals though it looks to follow a strict format and somethings will probably be tied up a little too neatly in the last half hour of the show. Sometimes these shows can bury themselves under their own cleverness. This team seems to operate at a bit higher level than amateur detectives would. Although, in the world of fiction if you can't suspend your disbelief for a bit, you don't really need to be watching. I'm not a big fan of most things like this, they tend to distract me a bit too much and can't really grip me well enough with their psuedo-science and other unbelievable items.
Starts airing Tuesday September 22nd at 10/9PM central.
Hank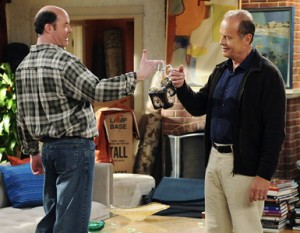 Kelsey Grammer stars in this timely comedy as Hank Pryor, a titan of industry who suddenly finds himself out of work, almost out of money and around a wife and kids for whom he's never made much time. Despite his recent setbacks, however, Hank is confident he's on the road back to the top. He knows he is destined to return to greatness. And he is just not the greatness he imagines.
Worth Watching? Well, Kelsey Grammer has a type and he definitely plays to it in this one. There is no doubt he is at his best when playing uptight snobbish blowhards, so this should be a great role for him. The great thing about Grammer is the fact that he can pull off a role like that and make the character endearing. He could just as easily come off as the world's biggest jerk, which he pretty much did in his failed comedy with Patricia Heaton Back to You. What really gets me excited about this show is the hillbilly brother-in-law played by the (almost) always funny David Koechner. He's kind of a one note actor, but that one note he manages to hit so pitch perfect that you can forgive him. This is your standard multi-camera sitcom show. It is probably going to be pretty run of the mill. Lessons to be learned in a half an hour, laugh track, etc. What you stay for here is the cast and vetern Crammer who has shown over the years he knows how to hold a sitcom.
Starts airing Wednesday September 30th 8/7PM Central.
The Middle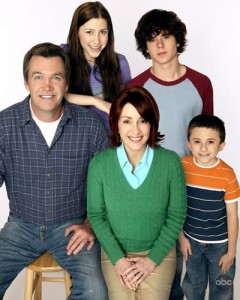 The Hecks are a middle class family living in the middle of Indiana, just trying to keep their heads above water. Emmy-winner Patricia Heaton stars as a wife and mother of three in a comedy about raising a family and lowering your expectations.
Worth watching? Very much so. Everything I've heard about this show is positive. In fact quite a few reviews I've read have found no fault with it at all. The show is just a genuinely funny show. Like the previously mentioned show Hank, The Middle stars yet another tv vet, Patricia Heaton. Heaton who worked with Grammer two seasons ago on Back To You is also getting a second chance. This time it looks like she is more likely to succeed, and it looks as if her commitment to the role of the tired mid-western mom might be part of the reason it will succeed. Neil Flynn as the husband gets to continue to show us just how good his comedic chops are in this one after his brilliant run on Scrubs. It is great to see him take a more major role other than the scene stealing Janitor role he has played on Scrubs for the last 8 years. Although, the brightest spot in the show appears to go to Atticus Shaffer who plays the oddball and scene stealing son, Brick. Let's face it this concept has been done before (actually this same story was tried just a few years ago with Ricki Lake in the main role), but this looks to be a fresh take on suburban life , and fortunately a very funny one.  It is another great addition to the ABC lineup this fall.
Starts airing September 30th at 8:30/7:30PM Central.
Modern Family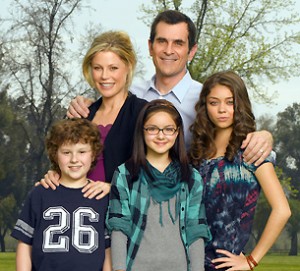 Today's American families come in all shapes and sizes. Shot from the perspective of an unseen documentary filmmaker, this comedy takes a modern look at the complications that come with being a family in 2009.
Worth Watching? I'm calling it right now, this is the next comedy show to watch. The concept is great, and the execution looks even better. ABC seems bound and determined to bring the best new comedic lineup this year. I really have to admire how far they've come in the past few years. They have been great at developing new programs. I just wish a few of them had stuck around a bit longer. This is probably my most anticipated show of the fall, and it worries me a bit. Every time I really enjoy a show it seems to always get canceled. Maybe my opinions don't follow the public taste as well as I thought they did. This I fear could go the way of Arrested Development, a great new comedy that viewers might not get because of it's different format. That cast looks great, and it's a bit funny that for the third show in a row I have mentioned it includes a Back to You cast member, Ty Burrell.  There really doesn't appear to be a weak spot in this comedy at all.  ABC having two great comedy pilots this year, what a great thing to hear!
Starts airing Wednesday September 23rd at 9/8PM Central.
Cougar Town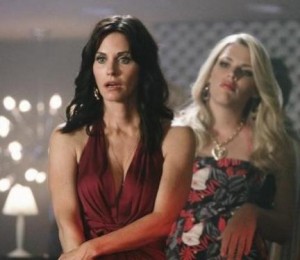 Courtney Cox stars as a recently divorced single mother exploring the honest truths about dating and aging in our beauty and youth obsessed culture.
Worth watching? When I first heard about this I admit I thought immediately of Courtney Cox's failed Dirt. I was thinking along those same lines so I kind of wrote this one off. Then I started reading some of the early reviews and watched a few of the promos, and now I think I'm starting to come around. It looks like ABC is bound and determined to give us some great comedic programming this fall, most likely to compete with the great lineups of NBC and CBS.  The fine line this one has to walk is keeping it funny without going overboard. I was never a huge Friends fan, but I do think that Cox has great comedic timing. The only thing I seem to think is a bit far fetched is that she has any trouble finding men. One question though, where did all this cougar stuff start coming from? Does it seem like the airwaves is a bit saturated with it now?
Starts airing Wednesday September 23rd at 9:30/8:30PM Central.
Eastwick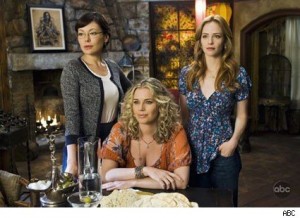 Three very different women find themselves drawn together by a mysterious man who unleashes unique powers in each of them, and this small New England town will never be the same. The series is based on the popular movie "The Witches of Eastwick" and on the novel of the same title by John Updike.
Worth watching? If I had to make a guess, I would say that this is the most likely of the ABC pilots to get canceled. It is easily the weakest of all of them, especially since they have a particularly good lineup this year. The concept is great, and has been done well before, but despite having good source material you need a good script to match it. The dialogue in this one is atrocious and will make you squirm at times with how bad it is. Also I'm not feeling Paul Gross as the transparent bad guy. His low growl and ominous tone are so over the top that this alone is worth forgetting this show. What the show has going for it is the fact that it deals with subject material that is hot at the moment. Vampires, Werewolves, and Witches always make fascinating subject material. Let's just hope the writers can give a little something more than the pilot does.
Starts airing Wednesday September 23rd at 10/9PM Central.
Flash Forward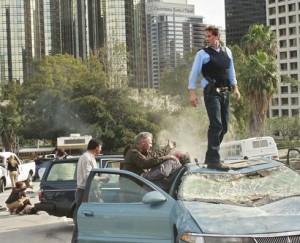 When a mysterious event causes the entire world to black out, humanity is given a glimpse into its near future, and every man, woman and child is forced to come to grips with whether their destinies can be avoided or fulfilled. Adapting award-winning author Robert J. Sawyer's revolutionary novel, executive producers David S. Goyer (visionary co-writer of "Batman Begins" and "The Dark Knight") and Brannon Braga ("24," "Star Trek: Enterprise") invite you to embark on a journey to answer the question, "if you knew what your future held, what would you do?"
Worth watching? Well ABC is going back to a high concept pilot. This is the one everyone is saying will replace Lost as their water cooler show. If Modern Family is my most looked forward to comedy pilot of the fall season than Flash Forward is for sure my most looked forward to drama. I'm a bit of a geek and I love science fiction shows that take that element seriously.  What makes me even more excited it the character centric story that is being presented here. A story like this cannot survive without characters that keep our geniune interest. This is why Lost has survived so long, otherwise people would have long left the island when things started to get so complicated. This could very well be the biggest drama of the season. I think it will have great ratings at first, but might lose some people down the line like Lost when things aren't answered immediately. Hopefully, this gets enough of an audience where we can get all of our questions answered before they end it.
Starts airing Thursday September 24th at 10/9PM Central.
It looks like ABC has the best lot of the new fall shows. Let's hope they keep them going!