National Margarita Day – Recipes and More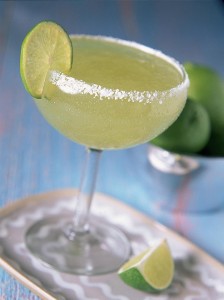 Many people were surprised today to realize that it is National Margarita Day. I know what you are thinking – is this a joke? Is there really a national day for celebrating this icy drink? Well… maybe.
Most likely the day was invented to sell more tequila. Or maybe Jimmy Buffet and Margaritaville are to blame for the new celebration! Either way – it is kind of interesting.
So what else is there to do on a day like today, except for get out the old blender and ready the ice. Here is a margarita recipe for "The Perfect Margarite," straight from Margaritaville:
Need a cocktail? Here you'll find some of our Tequila and Flavors!
Picture of The Perfect Margarita a margarita glass with lime zest
The Perfect Margarita
1 oz Margaritaville® Gold Tequila
.5 oz Margaritaville® Silver Tequila
.5 oz Triple Sec
.5 oz Orange Curacao
.5 oz Lime juice
2 Lime Wedges
Rim margarita glass with salt. Combine ingredients in a shaker filled with ice. Squeeze limes and add to tin. Shake vigorously and pour into a margarita glass.
For more recipes, visit margaritaville.com.