Preview: 'My Brother, My Brother, and Me' Coming to the Peabody Opera House in St. Louis (5/3)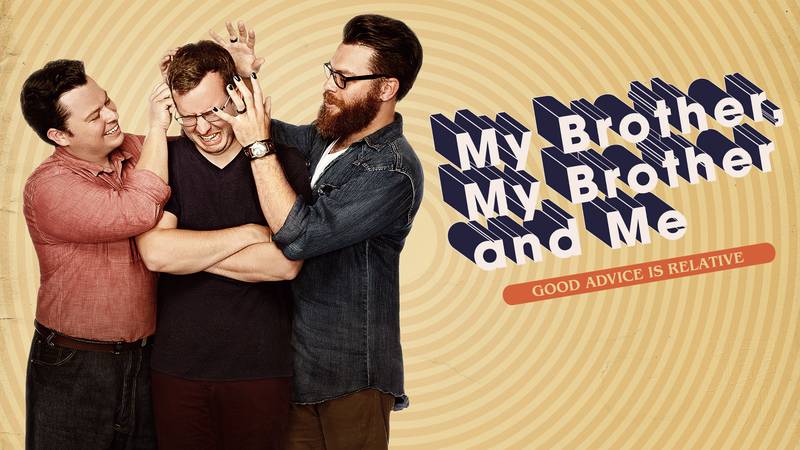 "The McElroy brothers are not experts, and their advice should never be followed."
That's how the podcast My Brother, My Brother, and Me starts every week. Hosted by real-life brothers Justin, Travis, and Griffin McElroy – the show is a self-proclaimed, "advice show for the modern era." Except they don't actually expect you to follow their advice – because it is, for all intents and purposes, terrible. And that is what makes the show one of the funniest podcasts around.
My Brother, My Brother, and Me, or MBMBaM as it's known to listeners, is an improvised advice show on the Maximum Fun podcast network. Listeners send in some of the most ridiculous questions they can find – often times from Yahoo! Answers – and the brothers come up with their solutions during the recording. They've been doing this since 2010, and recently recorded their 400th episode. The impressive milestone included guest-host Lin-Manuel Miranda, as well as a trip to interview guests on the red carpet for the Broadway premiere of Jimmy Buffett's Escape to Margaritaville.
Every live show the McElroy brothers put on is different than the last. There is no script, because each live recording goes up as one of their weekly podcasts – labeled as a "Face 2 Face" episode. That means new questions, and of course hilarious new answers every time. Members of the audience even get a chance to ask their own questions in person. But remember, no bummers (they even had a special microphone made that reads "no bummers" on it). Fans are there to have fun – and if you're there too, you know better than to try and get too serious of advice.
Justin and Griffin are both professional video game critics at Polygon; Justin is Editor-at-Large, while Griffin is the Senior Video Producer. If you're a gamer, and you want to get a taste of the boys' humor, you'll appreciate one of my favorite pieces of advice they've given. This question comes from a Yahoo! Answers user who wants to get into videogames, but has no idea where to start.
From Episode 395, "Diagnosis: Onions,"

Justin and his wife Sydnee (who also record a podcast called "Sawbones" together) celebrated the birth of their second child, Cooper, this past February. A newborn means that Justin doesn't have much time for videogames at the moment, but is currently playing Far Cry 5 whenever he can get a free moment.
As a part of the annual Max Fun Drive, Maximum Fun (the podcast network where you can hear the brothers and many other great podcasts) just gained over 28k new and upgraded subscribers. What makes their service unique is that you tell them exactly what shows you listen to, and the artists are directly rewarded. Members receive exclusive perks like bonus episodes (currently over 110 hours of content across the network), t-shirts, memebership cards, and more. If you would like to subscribe and support the McElroy brothers, you can donate here.
Follow MBMBaM on Twitter for more sibling shenanigans, and the McElroy brothers individually: Justin, Travis, and Griffin. They are all pretty active on social media, and are quite fun to follow.
My Brother, My Brother, and Me will be in St. Louis on May 3, 2018. Tickets are available now at peabodyoperahouse.com.