Movies: Adam Sandler's career highlights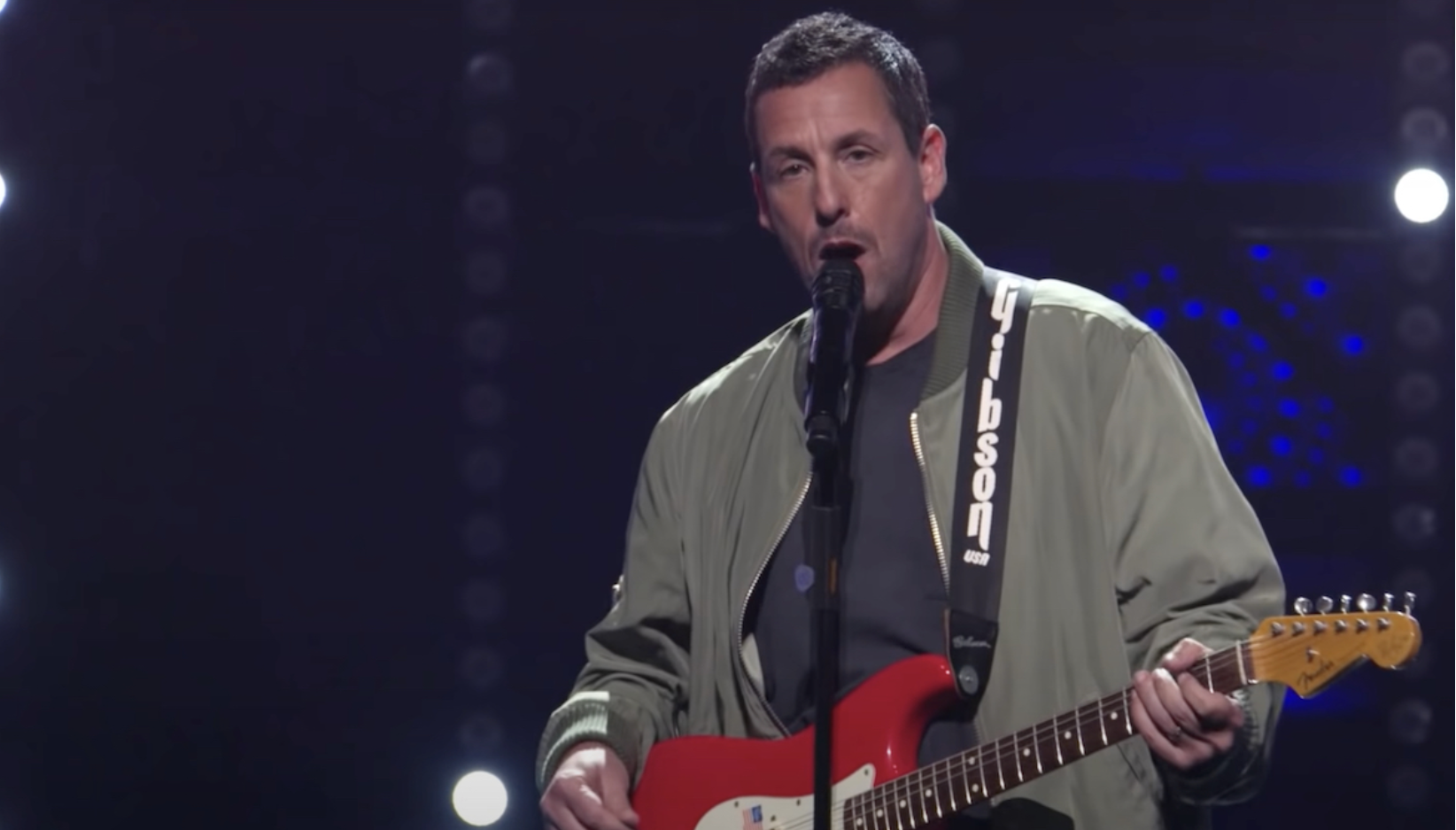 Adam Sandler has had a long and profitable career since breaking out on Saturday Night Live.
The SNL alum came from the same show-class as Chris Farley, David Spade, Rob Schneider and Tim Meadows. Sander has had the longest and most illustrious career of just about any SNL alum out there. Sandler has appeared or starred in at least 57 films, and put out 7 albums. The Sand Man who has been scrutinized in the past for some of the ridiculous movies he has starred in, has undergone a career resurgence thanks to his films Uncut Gems and Hustle. Sandler has never been better in the two films, which are both less comedic and more dramatic. In fact, many believe Sandler was snubbed by not receiving an Oscar nomination for Uncut Gems. Here are some of The Good Doctor's favorite Adam Sandler highlights from over the years.
Hustle (2022)- Sandler is perfection in this great film about a basketball scout who discovers a player from Spain. The film is one of the most realistic basketball movies I have seen, as Sandler not only turns in one of the best performances of his career, but he gets a number of NBA players and coaches to appear in the film, giving it an even more realistic feel. It's clear that Sandler, who when on tour or filming, can be found shooting hoops during his down time, is in his element when it comes to the subject of basketball. This is a must see for any movie fan.
Funny People (2009)- This film almost was a classic in my opinion. The Judd Apatow directed comedy stars Sandler as George Simmons, a comedian who recently learned he has a fatal disease. Simmons spots a struggling performer named Ira (Seth Rogen) and decides to become his mentor. The men become close friends as George teaches Ira the art of stand-up comedy, and Ira helps George define his legacy. When an old flame (Leslie Mann) reappears and the disease goes into remission, George gets a chance to re-evaluate his life and figure out what is truly important to him. The film also features Jonah Hill, Eminem, Eric Bana, and cameos by a ton of comedians. The first hour of the film is damn near perfect, as Sandler and Rogen feed off each other. Where the film lost me was the 2 hour and 23 minute run time. I felt like Funny People was about 30 minutes too long. I would have preferred that there was less about Sandler and Mann's relationship and more of his interaction with Ira and his friends while dealing with the notion he may be dying. So, half the movie is damn near perfect, while the second half falls short, but overall, it's still an enjoyable watch.
Click (2006) Sandler stars as Michael Newman who seems to have it all, a beautifulbut his wife, Donna (Kate Beckinsale), is increasingly frustrated by the amount of time he has to spend at work. Michael cannot find time to be at home until he meets an eccentric inventor (Christopher Walken) who gives him a universal remote that controls time. At first he happily skips the boring times until he realizes the remote is in control of his life and he learns to cherish all the precious moments with his family. Sandler is at his best as he battles the remote as it starts to take control of his wife. The movie features some comedic moments, as well as some heartfelt ones. It's a good watch.
Uncut Gems (2019) –Sandler plays a charismatic jeweler who makes a high-stakes bet that could lead to the win of a lifetime. The film moves at a quick pace and keeps the adrenaline pumping throughout the entire film. Kevin Garnett plays himself, as Sandler's character has a special diamond that Garnett wants. The ending is nothing short of shocking. You feel for Sandler's character, but also know he's kind of sleepy. This is one of the best roles of Sandler's career.
Happy Gilmore (1996)- This may be one of the roles that Sandler is forever known for. He plays Happy, a down and out hockey player who discovers he can drive a golf ball further than anyone on the PGA Tour. His antics, along with Chubs, played by Carl Weathers and Shooter McGavin, played by Christopher McDonald make this movie a must see if you're a Sandler fan.
The Waterboy (1998) One of the most ridiculous and stupid Sandler films I've seen, but it's so much fun. Sandler plays Bobby Boucher Jr. a dimwitted boy who loves to serve water. After growing tired of being picked on, Boucher discovers an inner anger that causes him to hit harder than any football player on the team. He is quickly put into the linebacker position for the Mud Dogs. This is the highest grossing sports film of all-time. It's also one of Sandler's signature films.
The Longest Yard (2005)- Sandler plays disgraced pro football quarterback Paul Crewe. When he decides to get hammered and take his ex-girlfriend's sports car for a joy ride, he lands in jail. While in prison, he is recruited by manipulative Warden Hazen (James Cromwell) to advise the institution's team. This turns into a lead role quarterbacking a crew of inmates in a game against a team of prison guards. Aided by incarcerated ex-NFL coach Nate Scarborough (Burt Reynolds), Crewe and his team must overcome not only the bloodthirstiness of the opposition, but also the corrupt officials trying to fix the game against them. Several well-known actors and athletes appear in the film, from Nelly, Stone Cold Steve Austin, Goldberg, and Kevin Nash to Bill Romanowski. Chris Rock also lends quite a bit of humor to the film, as he plays Caretaker.
Big Daddy (1999) Sandler plays thirty-two-year-old Sonny Koufax, who has spent his whole life avoiding responsibility. But when his girlfriend dumps him for an older man, he's got to find a way to prove he's ready to grow up. In a desperate last-ditch effort, Sonny adopts 5-year-old Julian (Dylan Sprouse), (Cole Sprouse) to impress her. She's not impressed … and he can't return the kid. Uh-oh for Sonny! The film is funny and kind-hearted. It gave Sandler an opportunity, yet a small one, to show off his dramatic acting in some scenes. The film featured roles from Jon Stewart and Joey Lauren Adams. Big Daddy grossed over $234 million at the box office.
The Wedding Singer (1998)- Sandler and Drew Barrymore teamed up for this hit. Set in 1985, Sandler plays a nice guy with a broken heart who's stuck in one of the most romantic jobs in the world, a wedding singer. He loses all hope when he is abandoned at the altar by his fiancé. He meets a young woman named Julia (Barrymore), who enlists his help to plan her wedding. He falls in love with her and must win her over before she gets married. We get all the great 80s fads in the film, along with Sandler singing, a skill that he is highly underrated at. Throw in a cameo by Billy F'n Idol and you can't turn the channel when The Wedding Singer pops up on cable. In my opinion, this is one of Sandler's best, as it mixes comedy and a love story.
Anger Management (2003)- Maybe not one of Sandler's all-time greatest films, but I put it on my list because he got to go toe-to-toe with Jack Nicholson. That in itself is a win for the comedian. Sandler plays a mild-mannered man who gets caught up in an incident aboard a plane and ends up being sent to anger management classes to avoid being sent to jail. The teacher of the class, played by Nicholson, is confrontational, completely unorthodox and ends up moving in with the man to help him fight his inner demons. The pair share some good laughs in the film, but ultimately, the film can't overcome its subpar script. While I still list it as one of his career highlights, I always felt like the pairing of Sandler and Nicholson could have been so much more.
50 First Dates (2004)-Sandler and Barrymore team up yet again to gross nearly $200 million at the box office. Sandler plays a veteranarian named Henry who sets his heart on romancing Lucy played by Barrymore, but she has short-term memory loss; she can't remember anything that happened the day before. So every morning, Henry has to woo her again. Her friends and family are very protective, and Henry must convince them that he's in it for love. The film is fun yet lighthearted. Throw in some comedy with Sean Astin and a couple walruses and 50 First Dates is a lot of fun. It also has a great soundtrack.
Honorable Mention: Billy Madison, Litte Nicky, Airheads and Grown Ups.
While Sandler shows no signs of slowing down, signing a film deal with Netflix several years ago, his net worth is up to $440 million dollars. Pretty good for a young comedian who got his start on SNL.
Fans of Sandler can't forget about his music, after all, he has sold over 5 million records. One of my first memories of Sandler was his classic comedy album, "They're All Gonna Laugh at You." The album features the classic comedy bits Fatty McGee, Toll Booth Willie and the song At a Medium Pace. It was one of those albums that was so funny you wanted to share it with all your friends, but so dirty, you hid it from your parents.
In 1996, Sandler followed that album up with 'What the Hell Happened to Me?' That album featured the Chanukah Song, as well as skits Sex or Weightlifting and The Goat. Once again, the album was a hit with Sandler fans.
In 1997, Sandler dropped the album 'What's Your Name' which featured the song 'Lonesome Kicker.' I particularly enjoyed the music video to the song. Sandler also released 'Stan and Judy's Kid' in 1999, 'Shh…Don't Tell,' and '100% Fresh.'
With nearly 30 years in the comedy game, Sandler's career still going strong and he's better than ever. The comedian has embarked on a comedy tour, playing to sold-out arenas around the country. Sandler will make a stop in St. Louis on February 10 for a show at Enterprise Center and the next night will play Kansas City on February 11 at the T-Mobile Center. Tickets are still available by visiting Ticketmaster.com. Don't miss out on this opportunity to see one of the most well-known, successful and funny comedians of our time.