Movie Review: 'The Watch' Starring Ben Stiller, Vince Vaughn, Jonah Hill, Richard Ayoade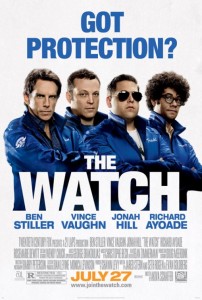 You may not think you know Akiva Schaffer, the director of The Watch, but chances are you most certainly do. His first feature-length film, Hot Rod, although lacking critical acclaim, is considered a modern day cult classic. And he has written for Saturday Night Live from 2005 to 2011, and directed over 60 digital shorts including "I'm On a Boat," "Jack Sparrow," "Motherlover" and "Jizz in My Pants." But when you land a job directing a film starring Ben Stiller, Vince Vaughn and Jonah Hill – some of the biggest comedians around – you know you've hit the big leagues. And for fans of Schaffer's sense of humor, he hits it out of the park.
Evan (Ben Stiller) is the founder of the Glenview running club, senior citizen Spanish club, and manager of the local Costco. He is a typical suburbanite, living the dream – great job, great house, loves his wife and his community. But Evan's perfect world is turned upside-down when a security guard at work is brutally murdered. The police aren't any help in figuring out who or what committed the crime, so Evan does what he does best – starts another club. The first meeting of "The Neighborhood Watch" commences with only 4 members: Evan, Bob (Vince Vaughn), Franklin (Jonah Hil) and Jamarcus (Richard Ayoade). But Evan gets frustrated when the other members are more interested in hanging out than stopping crimes. That doesn't last long though, when the four of them discover a strange alien weapon and life form in the woods. When they connect the murder to an alien race that can take on the appearance of humans, everyone is suspect and no one can be trusted.
In his latest film, Stiller plays a straight character not unlike the one he played in Tower Heist. I personally prefer a wackier Zoolander or Tropic Thunder Ben Stiller, but he does a decent job with his role in The Watch. What is nice is that Vince Vaughn's Bob is the complete opposite of Evan, and provides a good balance. Some of the biggest laughs in the film come from Bob messing with Evan, and the two have a great chemistry together. Jonah Hill plays a hard-headed outcast who failed his written, physical and mental tests to get into the police academy. He joins The Neighborhood Watch in order to get back at the police, and prove that he has what it takes to stand up against crime. He is probably one of the best parts of the film, and always has something to add to the conversation that stirs up laughter. Last, but not least, Richard Ayoade (The IT Crowd) plays an awkward guy who joins The Watch to impress women and get laid. His dry, slow delivery is great and he makes an excellent addition to the cast.
You can tell that director Akiva Schaffer has grown a tremendous amount since Hot Rod. Afterall, he has had an incredible amount of experience in directing Digital Shorts for SNL, which have only gotten better and better looking. The Watch not only looks great, but is well paced and acted. Going into the film, I wasn't sure if I should expect a goofy, slap-stick style of humor – or a more serious comedy. Although there is plenty of the random humor that we have come to know and love from Schaffer, the film looks professional and is well done. Everything from the aliens to the special effects were top notch, and show they spared no expense in making the movie.
You pretty much know what you are getting yourself into when you go to see a film like The Watch. If you expect anything other than a fun summer popcorn flick, don't give your hopes up. I found the movie to be quite funny and entertaining, and the fact that much of the plot revolves around Costco is pretty hilarious in itself. The members only store is a large contributor to many of the laughs in the film, and does a good job of being a plot device rather than a product placement. If you are looking for a fun buddy comedy that let's you get away with not thinking too hard about it, you are in for a treat.
The Watch is a B-