Movie Review: 'The To Do List' Starring Aubrey Plaza, Bill Hader, Christopher Mintz-Plasse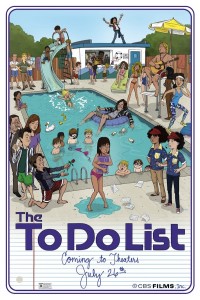 Maggie Carey's The To Do List is an awkward sex comedy to say the least. The movie starts out in Boise Idaho in the year 1993. The female protagonist Brandy Klark (Aubrey Plaza), the valedictorian of her high school class, creates a summer to do list of erotic activities to experience for the first time. She works for a city pool as a life guard where she uses a lot of acquaintances to sign off different sexual acts on her list. Brandy finds sexual guidance from her friends Fiona (Alia Shawkat) and Wendy (Sarah Steele) and her sister Amber (Rachel Bilson). She meets a young guy Rusty Waters (Scott Porter) that she decides will ultimately deflower her.
The acting was sub-par due to the story line of the film. Brandy, played by Aubrey Plaza, is probably most known for Scott Pilgram vs. the World and Parks and Recreation. Plaza does a pretty good job at playing the high school senior clueless about sex. Bill Hadar stars as the pool manager Willy, and does a spot on job as the drunken comic relief. Rusty Waters, played by Scott Porter, also did a good job in his role of the stereotypical college jock. The cast did a all around good job for the screenplay that was given to them. The film would have been much better had it not felt so forced, constantly trying too hard for cheap laughs.
While there are some movies like American Pie that have pulled off the "sexual comedy" well, The To Do List often leaves the audience just feeling embarrassed for Brandy. Take for instance a scene where she is trying to impress Rusty Waters by wearing a tube top. Naturally when she dives into the water her top comes off – leaving Brandy, a very flat chested girl, the blunt of a very long and drawn out joke.
In the end, The To Do List is a lackluster sexual comedy. The audience may find some moments funny, but they are far too often followed by weird and uncomfortable scenes. This movie is also not for kids because of the constant and unnecessary cursing throughout the film. The movie used the F word far too much. Although somewhat entertaining, the film lacks what it takes to make it a hit.
The To Do List is a C-