Movie Review: 'The Last Stand' Starring Arnold Schwarzenegger, Johnny Knoxville, Luis Guzmán
He's Back.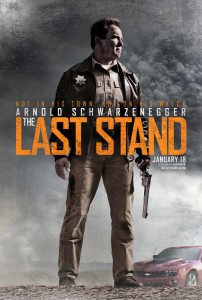 Although he has made a handful of cameos over the past decade, it has been just shy of ten years since Arnold Schwarzenegger has starred in a film. As I thought back to how many great action movies he has been in, I realized just how much I missed Arnold. Sure, most of his films don't warrant any awards or praise for his performance. But the majority are just downright fun, and The Last Stand is the popcorn flick we have been waiting for.
Ray Owens (Arnold Schwarzenegger) is the sheriff of Sommerton, a quiet town on the Mexican Border. Ray is enjoying a peaceful day off until he gets a call from FBI Agent John Bannister (Forest Whitaker) telling him that Gabriel Cortez (Eduardo Noriega), notorious drug kingpin, has escaped their custody and may be headed to their town. With only a handful of deputies and the help of some local citizens, Ray is tasked with keeping Cortez from crossing the border.
It is amazing how good it feels to see Schwarzenegger back on the big screen. The man is 65-years-old, and hardly looks like he's aged a day since Terminator 3 back in 2003. We've seen our fair share of aging action-stars in leading roles over the past few years, but none of them quite own it like Arnold. My only criticism is that we don't see more of him, as we are constantly going back and forth between him and Whitaker's character at FBI headquarters. But what we do get is action gold, when things start heating up it is classic Arnold all the way.
Schwarzenegger is joined by Johnny Knoxville and Luis Guzmán who, as you can imagine, are the comic relief in the film. Although their performances, primarily Knoxville's, feel a bit over-the-top at times – they do have their moments. Whitaker's performance as the agent in charge of the operation to take down Cortez seems a little out of place, but works for the most part.
The movie wouldn't be a true action-movie without it's fair share of ridiculous moments and unrealistic shootouts. But that is what we have come to love with Arnold. The best part about the film is that it never tries to be anything it is not. The Last Stand is filled to the brim with guns, explosions, car chases, and of course – one-liners. The movie is self-aware of what it is, and exactly what we want it to be. And there is no doubt that we haven't seen the last of Arnold.
The Last Stand is a B-