Movie Review – Take Me Home Tonight Starring Topher Grace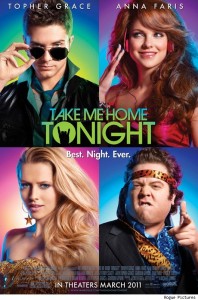 Comedies attempting to capture a certain period can vary wildly. You sometimes get charming 80s schlock in the form of Wedding Singer, and sometimes you get hilariously over the top antics like in Hot Tub Time Machine. Unfortunately, Take Me Home Tonight shares a lot of similarity with those two films, but never quite manages to reach the same heights as the aforementioned films.
Matt Franklin (Topher Grace) is a recent MIT grad who has yet to realize his calling in life. Instead of using his prestigious degree in a high paying corporate job, he instead works in the local mall at the video store, Suncoast Video.  When Franklin has a chance encounter with his high school crush, Tori Frederking (Teresa Palmer), he makes a decision to attend a party to finish what he couldn't in high school. Accompanying him is his blowhard and slightly manic friend, Barry (Dan Fogler), and his twin sister, Wendy (Anna Farris). What occurs is a night in which Matt makes many discoveries about himself and the girl of his dreams.
Take Me Home Tonight desperately wants to be included alongside classic films from the 80s. The period doesn't really add much to the plot, other than a number of sight gags and a solid soundtrack (that somehow never uses the title song). The film could have just as easily fit in another period, and might have been better for it.  They don't openly mock the 80s, but in fact revere it to a point that the film seems to have little more than a top layer holding together a thin plot.
Topher Grace continues to have a persona on film that is almost impossible to hate. Grace effortlessly plays a nice guy with not much of a spine, but lots of charm. This is just the latest in a number of choices that baffle me. With the amount of affability he possesses, one would think he would be offered a bit juicer roles.
Anna Farris plays a role that is much more toned down than many of her other comedic roles, but is one of the most underused actors in the ensemble. Despite the fact that the plot thread feels tossed in there, Farris and real life hubby, Chris Pratt,  have great comedic chemistry. I for one would pay to see them star in another film together.
While Topher Grace continues to stump me as to why he doesn't have better roles, Dan Fogler amazes me that he continues to  get any. I have yet to see Fogler in a film where he doesn't overwhelm the people around him. His boisterous performances might be praised by others, but I can't find him anything other than obnoxious.  His performance might be befitting of the stage, but come across too loud on celluloid.
Aussie Teresa Palmer doesn't have a hard job to do, she just has to look pretty, and have a winning smile. Despite looking like a blond Kristen Stewart (an observation many have pointed out), she does look to have a broader range of emotions than the Twilight actress.  The chemistry between her and co-star Topher Grace was admirable, but not always believable.
In the end Take Me Home Tonight suffers from too much concentration on the period it is in, and not enough about the characters and plot that inhabit it. Plot wise the film shares a lot with the much superior comedy, Can't Hardly Wait. That isn't to say it is bad, you will find plenty to enjoy about it, but it may not be a film that sticks with you very long.
Grade: B-