Movie Review: 'Southpaw' Starring Jake Gyllenhaal, Rachel McAdams, 50 Cent
Jake Gyllenhaal is on a roll.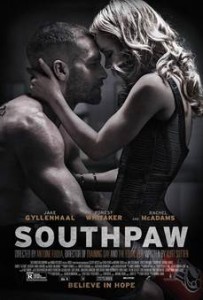 With his new film, Southpaw, the actor once again buries himself into another role. This time it's Billy Hope, a boxer who is seemingly on top of the world.
He has millions of dollars, a beautiful wife and daughter and has won 43 straight fights.
After a tragedy strikes Hope's family, everything he has vanishes, including his longtime manager Jordan, played by Curtis "50 Cent" Jackson.
Antoine Fuqua does a fine job directing the film. In fact, it may be his best work since Training Day.
Just like Fuqua did in Training Day with Denzel Washington, he gets a scene stealing performance from Gyllenhaal, who should garner some Oscar attention for his role.
Much like he did in Brokeback Mountain, Prisoners and Nightcrawler, Gyllenhaal immerses himself into the role of Hope.
While Gyllenhaal had to lose 30 pounds for Nightcrawler, he gained 30 pounds to play the role of the punch-drunk boxer.
While the film features some great boxing scenes, probably some of the most brutal and violent in-ring scenes I've ever seen, this film is about a father's relationship with his young daughter.
There are plenty of heart-tugging scenes in the film.
The supporting cast is also top-notch with Jackson, Rachel McAdams and Forest Whitaker playing Hope's down and out trainer.
Yes, the script is formulaic, and the film echoes past boxing films such as Raging Bull, but Gyllenhaal's performance is what makes the film work.
A strong soundtrack also helps the film, as the late James Horner composed the score for the film and Eminem contributes two new songs, both are perfect for the film.
While it is a gamble for the Weinsteins to put up against the big summer blockbusters, it's also a change of pace for anyone looking for a drama with a little bit of action. Southpaw won't break any box office records, but maybe, it will stand tall over its competitors, thanks to a knockout performance from Gyllenhaal.
Southpaw gets a B+.