Movie Review: OPPENHEIMER Starring Cillian Murphy, Emily Blunt, Robert Downey Jr.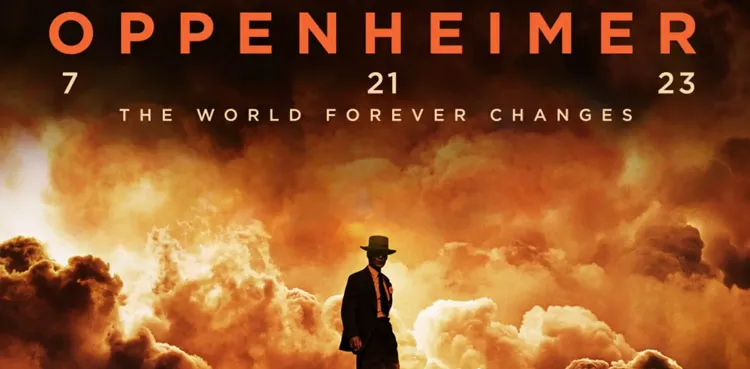 Christopher Nolan is without a doubt one of the finest directors of the last 25 years of cinema. The Dark Knight Trilogy, Dunkirk, Memento, and Inception are just a few of his noted and award-winning films. And I cannot forget one of my personal favorites, The Prestige. Nolan is a master of his craft and his new biopic is no different. In fact, Oppenheimer may just be his career masterpiece.
Based on the 2005 Pulitzer Prize-winning book, "American Prometheus: The Triumph and Tragedy of J. Robert Oppenheimer" by Kai Bird and the late Martin J. Sherwin, Nolan's adaptation focuses on scientist's struggle to rise through some of the world's top institutions and his work in quantum mechanics, his role of directing the Los Alamos Laboratory during World War II, his role in the Manhattan Project, and the aftermath of building a nuclear weapon. If it seems like a lot, well, it is. That's why the film is a robust three hours long. But, don't let that discourage you from seeing this film. Nolan's latest is a cinematic masterpiece that excels in not only sight, but sound as well. It's a masterfully crafted story from Nolan full of top-notch acting.
Cillian Murphy plays Oppenheimer and for one of the most underrated actors in Hollywood today, this seems like a role that he will always be remembered for. Yes, he's that good. In fact, it's rumored that Nolan had a distinct vision of what he wanted Murphy's character and Emily Blunt's character of Kitty, Oppenheimer's wife to look like that the actors' diets consisted of little more than martinis and cigarettes. Both actors immerse themselves into the roles.
If you love movies with great performances and loud, haunting scores, this film is right up your alley. I'll get to the score in a bit, but the performances are likely to be lauded during award season. In fact, I expect Oppenheimer to be nominated for just about every category there is, this film is that good.
The standout is Robert Downey Jr. as Lewis Strauss, a founding commissioner of the U.S. Atomic Energy Commission. Strauss is devilishly unlikable in the film, as he looks to bury Oppenheimer on his way to the top of the political ladder.
Matt Damon is also great as General Leslie Groves Jr., the no-nonsense director of the Manhattan Project.
I cannot forget to mention Blunt, who is rarely seen without a drink in her hand. Kitty was a brash and yet strong supporter of her husband despite being an alcoholic.
Florence Pugh plays Oppenheimer's girlfriend, Jean Tatlock, who is a much troubled as she is beautiful. Some of her scenes in the film may surprise viewers if you haven't heard about them yet. I loved the way Nolan played off Tatlock's demise, which has long been a source of mystery in itself.
Josh Hartnett is quite strong as nuclear scientist Ernest Lawrence, who worked with Oppenheimer at University of California-Berkeley.
There is a plethora of other actors showing up in the film in bit, yet strong roles. Casey Affleck, Kenneth Branagh, Jason Clarke, Dane DeHaan, Tony Goldwyn, Dylan Arnold, Michael Angarano, David Dasmalchian, Gregory Jbara, Macon Blair, David Krumholtz, Benny Sadie, Matthew Modine, Alex Wolff, and Rami Malek also show up in strong roles. I cannot forget about Tom Conti, who plays Albert Einstein almost to perfection and Gary Oldman, who plays President Harry S. Truman. Seeing Oldman as Truman was one of the highlights for myself, as I've long been a fan of the actor. I mean after all, who can pull off a small role as a drug-dealing pimp in True Romance and then play one of our nation's more revered presidents? Oldman is as reliable as they come.
Come award season, expect acting nods for Murphy for best actor, Blunt in supporting actress, and Downey Jr. in supporting actor. While all the performances were career bests for those involved, Downey Jr. really stood out to me. He finally can break free of the Marvel Universe and show the dramatic acting chops we all knew he possesses.
Nolan should also lock up an award in directing as well. The use of flashbacks with black and white reminded me of Oliver Stone's classic JFK. It was masterfully done.
The score is also brilliant. The music guides the tone of the film, which is not an easy thing to do in a movie like Oppenheimer. Composer Ludwig Goransson already has an Oscar for his score in Black Panther. His mantle could get a little more crowded come award season.
From makeup to editing, Oppenheimer is a work of perfection. It's a smart film that is a rarity these days. In a time when cinema attendance is down, Oppenheimer is a film that should be seen on the big screen. It's a perfect work of art that tells the story of one of the most interesting men in United States history. Nolan does justice to Oppenheimer by portraying him as a man of mixed convictions. He was a womanizer, unapologetically as a matter of fact. Yet, he was one of the smartest men in the world, who played a key role in changing the history of the world, something that haunted the man until his passing.
Oppenheimer gets an A.