Movie Review: 'On the Road' Based on Jack Kerouac's Novel, Starring Sam Riley, Garrett Hedlund, Kristen Stewart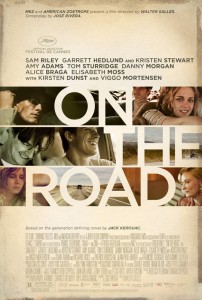 Based on author Jack Kerouac's 1957 novel, On the Road is the story of writer Sal Paradise (Sam Riely) and his friendship with Dean Moriarty (Garrett Hedlund). Like the book, the film is based on Kerouac's experiences on the road during the post-World War II beat generation. It was an anti-conformist movement, filled with experimental drug usage, sexual promiscuity and creativity.
Sal Paradise is a writer looking for inspiration, who instantly finds a connection with charismatic con-man Dean Moriarty upon meeting. Dean lives an unconventional life with his 16-year-old wife Marylou (Kristen Stewart), and acts as Paradise's muse. The two friends take to the road on various occasions, often times partying with friend Carlo Marx (Tom Sturridge) and experimenting with drugs and sex. Their carefree exploration of life is funded by whatever money they can scrape together, often times by means which are less than desirable.
The film is full of famous actors who play roles from Kerouac's journeys including Kirsten Dunst, Amy Adams, Viggo Mortensen and Elisabeth Moss. More times than not, the actors are underutilized in their brief roles on-screen. But during what little time they appear in the film, they knock it out of the park. Mortenson is particularly memorable as Old Bull Lee, a character based on William S. Burroughs.
The theme of sexual curiosity and exploration is prevelant throughout the entire film. It is focused on just as much, if not more, than the drug use and traveling. Director Walter Salles does not shy away from capturing the human body on film, especially when it comes to partial male nudity. If any of these things aren't your cup of tea, this movie is not for you.
The film is well shot and well acted, but seems a bit jumbled at times. But there isn't much you can do if you are trying to base it on the source material, which Truman Capote famously said is "not writing at all – it's typing." But the honest words narrated by Sal Paradise, as confused and crowded as they are at times, do come to life on-screen in the beauty and ugliness of the travels on the open road.
On the Road is a B-