Movie Review: MIDNIGHT IN PARIS Starring Owen Wilson, Rachel McAdams, Marion Cotillard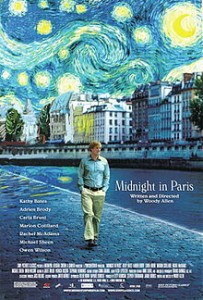 Woody Allen's latest film, MIDNIGHT IN PARIS, is a love letter to the famous home of the Eiffel Tower.  The opening five minutes shows the beauty of the city with amazing shots of the city's art, architecture, and people.  While watching this opening montage, I questioned whether the rest of the film would be as beautiful and interesting.  MIDNIGHT IN PARIS is one of my favorite films of the year thus far, and I have a feeling it will stay on that list when 2011 comes to a close.
The film centers around Owen Wilson's Gil Pender, a Hollywood screenwriter who is currently writing his first novel.  Him and his fiancee, Inez (played by the beautiful Rachel McAdams), take a vacation to Paris with her parents where they also meet up with some of Inez's friends.  Inez, her friends, and family are not exactly supportive of Gil wanting to take a new direction in his life with writing novels and possibly living in Paris permanently.  One night Gil is left walking back to his hotel alone when he is picked up by an old fashioned car with a very cordial group of friends inviting him to a party.  Gil soon discovers that he has been transported to the 1920's, a time he has always wished to live in.  With each trip back in time every night, Gil is forced to reflect on his time in the present and what will truly make him happy.
I will start my praise with the cinematography.  As I mentioned in the opening paragraph, this film is Woody Allen showing why he is in love with the great city of Paris, and it caused me to fall in love with it without actually going there.  I wanted to be there, walking around the streets of Paris at night with Gil.  The old fashioned lamp posts lighting the cobble stone streets that weave through the beautiful architecture.  But as Gil mentions in the film, it's hard to pick which is better, Paris by day or Paris by night.  The film just left me wanting to go and find out for myself.
The script is just as charming as the city.  The way Woody Allen writes in famous artists that influence Gil and his novel is very entertaining.  These are artists of all varieties: Picasso, Hemingway, Fitzgerald, Dali, Bunuel, and Toulouse-Lautrec.  Unless you are very much into the history of literature, art, and films some of these names might fly over your head, but it still makes for a fun film.  I love how Gil quickly buys into everything too, arguing with Inez and mentioning hanging out with Hemingway.  It just made me love his character more.
But no matter how fun the script was or how beautiful the cinematography was, the film would not work without the right cast.  And everyone in this cast plays their part to perfection.  Owen Wilson channels his inner Woody Allen to really bring Gil to life.  Rachel McAdams is perfect as the fiancee who would rather live the life of luxury and money than of the starving artist.  Marion Cotillard plays a potential love interest for Gil, and this might be the best I have seen of her.  We are also given great supporting turns from Michael Sheen, Kathy Bates, Adrien Brody, Tom Hiddleston, and Corey Stoll.
MIDNIGHT IN PARIS is unlike anything else you will see being released this summer.  There are no action set pieces, no big explosions, no CGI.  This is a smart film that is a lot more fun than you would expect with great acting and characterizations.  This is one of my favorite films from Woody Allen in a long time, and it needs to be seen.  Check  it out now on the big screen to see all of the beauty that Paris has to offer.