Movie Review: 'Jackass Presents: Bad Grandpa' Starring Johnny Knoxville, Jackson Nicoll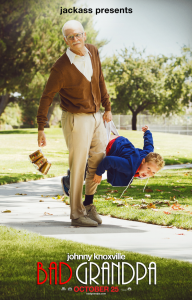 The "Jackass" franchise made millions off pranks and crude jokes. The gang of misfits, including Steve-O, Bam Margera, and Wee-Man among others has disappeared after a line of successful films. While most of the cast have vanished Johnny Knoxville seems to have some staying power in Hollywood. His latest film, Bad Grandpa, is a Jackass creation, teaming him with producer Spike Jonze and director Jeff Tremaine.
The concept, which has been seen in Jackass films and television shows many times, revolves around an 86-year old man, Irving Zisman. Zisman is joined by his 8-year old grandson Billy, played wonderfully by Jackson Nicoll. The rudeness begins at the funeral of Zisman's wife, as Billy is dropped off by his drug-addicted mother, fleeing from the police. Unsuspected funeral-goers are treated to an overheard conversation of Zisman and his daughter. They seem to not realize that Zisman has the microphone in his hand as they chat outside. While funny, the hilarity ensues when Zisman accidentally knocks over the casket. The mortified onlookers continue to sing, as Zisman attempts to pick his dead wife up off the floor.
Bad Grandpa is at its best when delving into the relationship of Zisman and his grandson. At first Zisman views Billy as a hindrance. His view starts to change as the two head cross-country to meet Billy's bum of a father.
There are some truly hilarious scenes in the film. Zisman's adventure into a male strip club may be one of the funniest scenes in the film. Knoxville truly lets it all hang out in the scene. Billy's banter with unsuspecting people on the street is also pretty funny at times. The laughs continue as Billy looks for his grandfather at a sex store. The pair has a great scene at a restaurant that involves passing gas. Zisman goes a bit too far with it, as he gambles and loses to the surprise of many of the restaurant patrons. The pair really evoke the laughs at a beauty pageant, as Billy enters dressed at a young girl.
Bad Grandpa seems to work best due to the fact that the stunts are not as over the top as the "Jackass" films, and Billy and his grandfather really work well together. The film actually has heart, building off the ongoing relationship between the duo.
The film may be lude and crude at times, but it brings the laughs. Knoxville puts his body on the line in a couple scenes, and Billy is a breath of fresh air to the film.
Bad Grandpa gets a B.