Movie Review: HALL PASS Starring Owen Wilson, Jason Sudeikis, Jenna Fischer, Christina Applegate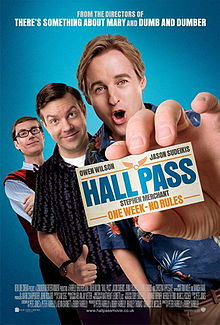 I was curious about HALL PASS.  I'm not sure how else to put it.  The trailer looked okay.  The premise definitely showed promise.  But I am not a huge Owen Wilson supporter, and the Farrelly brothers haven't done anything good since 1998 with THERE'S SOMETHING ABOUT MARY.  I left the film having mixed feelings on it.  There were parts I definitely thought were hilarious and loved.  But overall, the film never really took off for me.
HALL PASS sees the marriages of two best friends Rick and Fred in a little bit of a lull.  Not that they don't love their wives.  It just seems that other aspects of their life are prohibiting them from having the sexual experiences they desire.  After careful thought, the men's wives issue their husbands a "hall pass" from marriage hoping that the two men will get the crazy sex they desire out of their systems.  Will this "hall pass" leave the men living the dream life that they believe they could have?
As I said, there are very funny scenes in the film.  But that is all they felt like to me.  It just seemed like the movie moved from one set to the next.  The guys were at a restaurant, then a country club, then the hotel, then a night club, then a house party.  It all just felt like a lot of ideas for funny bits that they tried to lasso with a funny concept.
The actors and actresses all do a fine job.  Owen Wilson and Jason Sudeikis both do a fine job.  I actually enjoyed watching Jenna Fischer and Christina Applegate's characters more just because they were in more realistic situations.  Joy Behar fit the role she played, but it still felt odd that she was even in the movie.  And Richard Jenkins is always a joy to watch on screen.  I would have loved to see him through the whole movie.
Overall, I think the film is more of a rental than a rush out to see in theaters type of movie.  I think it would be better sitting in your living room with some friends only half paying attention.  It is certainly not a bad film by any stretch.  You will enjoy sitting and watching.  But it left me wanting to watch some of my more favorite comedies like I LOVE YOU, MAN and WEDDING CRASHERS.