Movie Review: 'Guardians of the Galaxy' Starring Chris Pratt and Zoe Saldana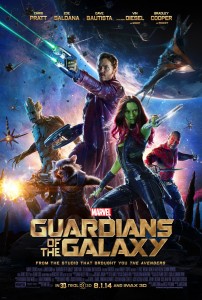 Most industry insiders were a bit baffled a few years ago when Marvel announced they were putting Guardians of the Galaxy into production. Even with Marvel not owning the rights to many of its top franchises, surely weren't there better choices to help expand the Marvel cinematic universe? Even more baffling was the choice of hiring James Gunn to write and direct the film. Gunn wasn't known as a big budget director; in fact Gunn got his start in B-movie heaven, Troma Entertainment.  Many people, myself included, thought Marvel was heading for disaster. After a second viewing of Guardians tonight, I can say without reservation that my pessimistic thinking was as far off the mark as one could imagine.  Marvel has hit a home run that should result in one of the biggest releases of the year.
Guardians of the Galaxy follows Peter Quill (Chris Pratt), a self-described outlaw by the name of 'Starlord' as he attempts to navigate a wide galaxy. The film opens with Peter being abducted shortly after his mother's death, with only the clothes on his back, and his trusty Walkman at his side. The film catapults 26 years into the future where Peter is now calling himself 'Starlord', and is a skilled thief in search of a mysterious orb. Unfortunately for Peter, this is no ordinary orb and is being sought out by Thanos (Josh Brolin) and Ronan the Accuser (Lee Pace), two of the most feared aliens in the galaxy. Thanos quickly dispatches his cybernetically enhanced daughter Gamora (Zoe Saldana) to recover the orb. Getting in her way are bounty hunters Rocket (Bradley Cooper), a foul-mouthed racoon, and his muscle Groot (Vin Diesel), a giant tree with a limited vocabulary. Rocket, Groot, Peter, and Gamora have a beautiful fight for different motives that lands them in a high security prison. It's only at the prison that our merry band begins to bond after figuring out the orb Peter has stolen is much more valuable than any of them could have imagined, and they must do anything to keep it out of the hands of Thanos and Ronan. Upon their eventual escape, picking up a beefy over-literal alien, Drax the Destroyer (Dave Bautista), the newly formed Guardians of the Galaxy must race against powerful foes, and deal with more power than any of them could have ever imagined.

First thing of note is how effortlessly Chris Pratt carries the lead role in this film. The past decade has seen his star rise steadily culminating in this starring role (shortly to be followed by Jurassic World), and it's impossible to say it isn't well deserved. Pratt plays Peter 'Starlord' Quill as a mix of pop culture icons such as Indiana Jones, Han Solo, and Captain Kirk. While he might owe a lot of his roots to these characters, he creates a fully realized hero in what could be one of the best space action films in a decade. Pratt is effortlessly funny, charming, and badass. If there is one thing that Marvel Studios has shown with these films, it is the fact that they know how to assemble a great cast. Pratt might not have been on many people's radar as the next big action star, but Marvel saw it, and could be possibly launching his career  to a whole other level.
Zoe Saldana continues her streak of geek friendly movies, and as always comes off as beautiful as she is dangerous. It really says something about her presence that despite her diminutive frame, she can play tough so well.  Dave Bautista might likely get the least amount of praise in the film due to the exceptional cast around him, but he does a fine job playing the straight man to Cooper's Rocket and Pratt's Quill. Bradley Cooper does fantastic voice acting for Rocket, and takes what could have been one of the riskiest moves of film, and turns it into a tough as nails character that is somehow a fully realized character in this world. Vin Diesel might have the least to do in this film, but his many iterations of '"I am Groot" will likely be many people's favorite moments in the film. Add in great villains played by Lee Pace and Karen Gillian and you might have one the best casts yet in any Marvel film.
James Gunn has created a vibrant world that somehow manages to reside in the Marvel universe, but gives it life and color that has been missing in some of the previous films. He takes what was Marvel's riskiest move, an adaptation that seemed headed for failure, and has created possibly the best Marvel movie to date. It's a film that will hold up on multiple viewings, a film that audiences of all ages can enjoy, a film that works with both genders, and best of all it still pleases the rabid fanbase. The movie is a joy to watch. It's rare to find a film targeted to commercial audiences that has great visuals, terrific acting, great script, and fantastic music cues without feeling forced. It won't be winning Best Picture at the Academy Awards, but it is still easily the best commercially produced film of the year.
There's no better adjective to describe Guardians of the Galaxy than fun. It doesn't hit you over the head with sentimentality, but it still has a few touching moments. It's first and foremost a riotous action adventure. Go in prepared to laugh and have a lot of fun. You'll be surprised when it isn't hard to buy-in to all the silliness. It may sound weird on paper, but it's brilliant on screen.
Grade: A+