Movie Review: Disney's FROZEN Starring Kristen Bell, Jonathan Groff, Josh Gad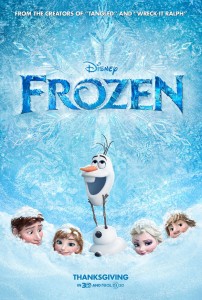 Disney returns to true form with Frozen, a story inspired by The Snow Queen (1845) by Hans Christian Andersen. Where recent films have felt like something was missing, longing for a new classic to put next to the likes of Aladdin, Beauty and the Beast and The Little Mermaid, the film rediscovers the Disney magic through song. Not unlike an animated stage show, Frozen is told through musical numbers – and a heart-warming story about the power of true love.
Princess Elsa (Idina Menzel) of Arendelle was born with magical powers, which allow her to control ice and snow. After a childhood accident involving her sister Anna (Kristen Bell), Elsa is forced to hide her powers and distance herself from her family. After years of being locked away in her room, the older sister is set to become the Queen – but is worried about her secret being discovered. After an argument about Anna's impromptu fiancé, a guest named Prince Hans (Santino Fontana), Elsa's powers are revealed – casting an eternal winter over the kingdom. After fleeing far away into the icy mountains, Anna sets off to rescue her with the help of Kristoff (Jonathan Groff) and his reindeer Sven. They even meet a magical snowman named Olaf (Josh Gad) who helps them on their journey.
Frozen is beautifully animated in 3D, showing the depth and power of Walt Disney Animation Studios' technology. The kingdom of Arendelle is full of magnificent color and detail, similar to the vibrant colors of Brave. Even when things become frozen, we are shown a wide array of breathtaking blues and crystallized ice.
If you look back at the films considered to be "classics" from Disney, it all comes back to the music. Oscar-winning Songs like "Beauty and the Beast," "A Whole New World" and "Under the Sea" are what helped to make those films so memorable. One of the things that makes Frozen so enjoyable is the storytelling done through fantastic songs, which feel like a live-theatre production. Christophe Beck is responsible for the composition, whose credits also include The Muppets and the upcoming Muppets Most Wanted among many others. You know exactly what you are getting into as the film opens with "Vuelie," set against only a blue background and falling snowflakes – with music reminiscent of the opening of The Lion King. The first glimpse of the setting is paired with the musical number "Frozen Heart," which sets the tone for the film. Many of the songs are quite catchy, like "Do You Want to Build a Snowman," which traverses through time as the young princesses grow up. Other memorable numbers include "For the First Time in Forever," "Let It Go" and "Fixer Upper."
If you are a fan of musical theater, you will love this film.
Kristen Bell is fantastic in the lead as Anna. Her voice fits the character perfectly, and she sings all of her songs. Going into the film I had no idea that she could sing, but she sounds fantastic throughout the movie. Idina Menzel is also great as Elsa, and also has a great voice. Her big tour de force in the film is "Let It Go," which really shows her range. The two actresses perform a number of duets together that sound fantastic.
Bell and Menzel are accompanied by several comedic talents, including Alan Tudyk as the Duke and Josh Gad as Olaf the snowman. Both of the actors add a tremendous amount of fun to the film, and Olaf in particular steals every scene he shows up in. Not unlike the minions in the "Despicable Me" series, I wouldn't be surprised if Olaf pops up in his own animated feature or short films. The snowman's lines are cleverly written and hilariously performed by Gad.
After being disappointed with Brave and Planes from a writing perspective, I didn't want to get my hopes up going into Frozen. However this film feels like what you would expect from a Disney film, and brings back the magic that we have grown to love over the decades. With breathtaking animation, a message full of heart and plenty of catchy songs, Disney is back in style with a fantastic movie for the whole family.
Frozen is an A