Movie Review: 'The Croods' Starring Emma Stone, Ryan Reynolds, Nicolas Cage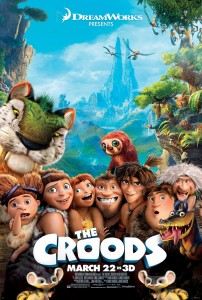 How to Train Your Dragon's co-director and writer Chris Sanders is back in the director's seat for Dreamworks' latest animated feature – The Croods. He is joined by Kirk De Micco to tell the story of the first prehistoric family, and their struggle to adapt in the rapidly evolving world around them.
Eep (Emma Stone) knows there must be more to life than hiding in a cave, afraid to step outside for fear of being eaten. Her father Grug (Nicolas Cage) lives by the rule that "fear is good, change is bad." His job is to protect his family, made up of wife Ugga (Catherine Keener), son Thunk (Clark Dude), daughter Sandy (Randy Thom) – and mother-in-law Gram (Cloris Leachman).
For the Croods, life is pretty much the same day after day. When they need to eat, the family teams up to hunt – only to return to their cave as soon as possible. Grug's favorite bedtime stories consist of cave drawings and tales of curiosity that lead to inevitable death. The moral of the story – stay in the cave. But all of Grug's tales couldn't prepare them for what to do if the cave no longer existed. When the continents begin to shift, they are forced to come up with a plan b on the fly. With the help of a boy named Guy (Ryan Reynolds) and his trusty sidekick Belt (Chris Sanders), the family is taken on the road trip of a lifetime.
The movie is a lot of fun, following this quirky and colorful family as they are forced out of their comfort zone. Nicolas Cage plays the perfect eccentric patriarch, cautiously trying to keep his family out of harm's way. He has good intentions, but more times than not they end up in disaster. Reynold's character Guy, on the other hand, is a thinker who is constantly coming up with inventions and solutions to problems along their journey. Many of the laughs come from the two of them butting heads, as Guy starts to become the leader.
Although the film is mostly fun and lighthearted, there are also moments where things get serious. The last thing I expected The Croods to do was pull at my heartstrings, but I would be lying if I said it didn't. Being a father, and having a family, it is easy to relate with Grug and the obstacles he has to overcome. There are moments between him and Stone's character that are pretty touching. It's a good sign that the film is doing something right when it can draw that kind of emotion, especially when it is animated.
The prehistoric world is rich and vibrant, and the entire film is beautifully animated. The animators did a fantastic job in creating breathtaking visuals that were not only well-crafted, but also fascinating to behold. The closest thing to compare it to is a stone-age Pandora – an amazing landscape full of unique creatures. The 3D is well utilized, adding richness to the world that the Dreamworks animators have created.
There is something in The Croods for everyone – action, humor, romance, family. The best children's movies are the ones where the parents can have fun too, and that is exactly what you can expect with this one. It's a unique twist on the family road trip that offers up its fair share of laughs, along with plenty of heart.
The Croods is a B.