Movie Review: Bad Teacher w/ Cameron Diaz and Justin Timberlake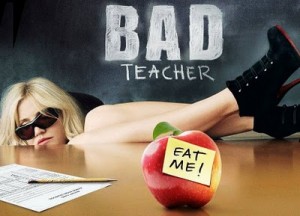 The summer of 2011 is quickly showing us just how funny strong female characters can be. As Bad Teacher claws at the coattails of Bridesmaids and primes Jennifer Aniston's upcoming appearance in Terrible Bosses, Cameron Diaz shows that she's got plenty of gusto to hold her own in any bitch-fest.
Bad Teacher is the newest film from director Jake Kasdan (Orange County, Walk Hard: The Dewey Cox Story) and the writing team of Gene Stupnitsky and Lee Eisenberg (Year One, Ghostbusters III). Bad Teacher stars Cameron Diaz as Elizabeth Halsey, a woman who reluctantly returns to teaching after her wealthy fiancé dumps her and leaves her with nothing. In her attempts to make it through the school year with as little effort as possible, she embarks on one cockamamie scheme after another to raise money for breast implants…so that she can find another wealthy benefactor to continue lavishing her. Sounds promising, right?
Part of what keeps this film entertaining is it's complete and utter disregard for anything resembling logic. At times, Bad Teacher seems more akin to classic screwball comedies like Airplane! and Spaceballs than the modern high-concept comedy that it purports to be. Unfortunately, it struggles to find the balance between the raunchy, outlandish comedy that works at times and the emotional appeal that is necessary for any movie. The banter between Elizabeth and gym teacher, Russell (Jason Segel) shows the potential this movie could have had. The other relationships in the film seem bland and tired by comparison. Justin Timberlake lays the naïveté on a little too thick as the substitute teacher and Lucy Punch reminds us she can be just as creepy as she was in Dinner for Schmucks as an overbearing teacher who vows to expose Cameron Diaz's true motives.
The supporting cast is terrific. St. Louis native Phyllis Smith (The Office) works her awkward charm and the endlessly funny John Michael Higgins (Best in Show) does his best with the material. All the children play their parts well and are able to retain their individual character traits.
Bad Teacher is certainly not a terrible movie. There are enough laughs to give it an overall positive rating and if you are a fan of comedies that attempt to "push the envelope", there are probably enough shock moments to keep you happy. But if you're looking for the best comedy out right now, that honor would go to Bridesmaids.
Worth Your Money
Not Worth Your Money
–Worth Somebody Else's Money-