Movie Review: 80 FOR BRADY Starring Lily Tomlin, Jane Fonda, Rita Moreno, Sally Field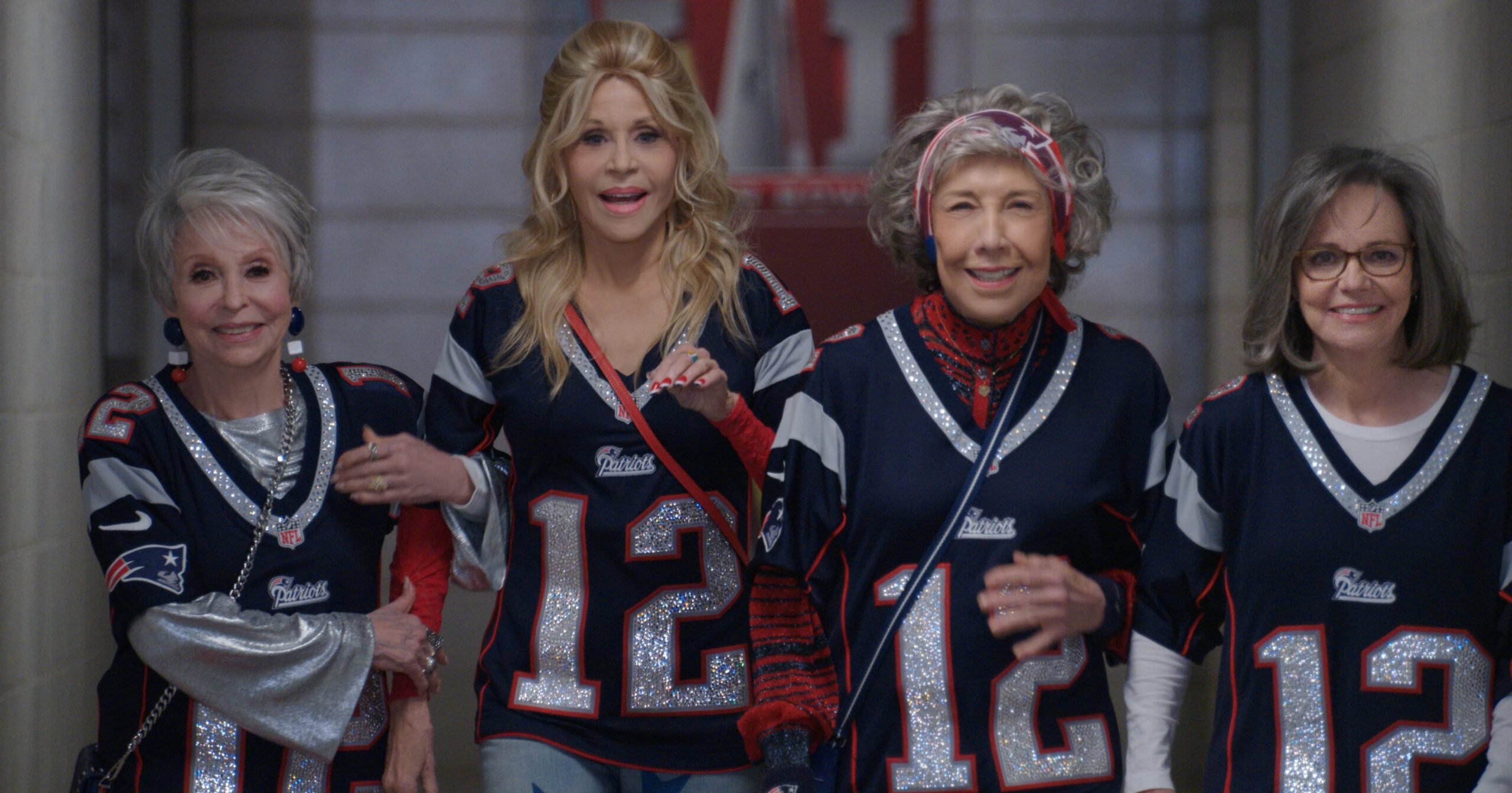 I am not a Tom Brady fan.
Now don't get me wrong, I respect the guy. He's almost certainly the GOAT quarterback (apologies to you Montana enthusiasts; Joe may have won every Super Bowl he went to, but he only led his team to four), and his accomplishments are unmatched. But as a former St. Louis Rams fan, he helped accelerate the dismantling of the Greatest Show on Turf after Super Bowl XXXVI, and so he will forever remain a nemesis to me. It was rather fitting that the screening for this movie occurred the day he announced his second retirement.
So let's just say I was hesitant going into the theater for 80 for Brady. It certainly had a terrific ensemble cast, but the idea of a 90-minute lovefest written in homage to the guy doesn't exactly ring my bell.
And boy, what a lovefest it is. From the time you see good ol' TB12 make his debut in place of an injured Drew Bledsoe, Lou (Lily Tomlin), Trish (Jane Fonda), Maura (Rita Moreno), and Betty (Sally Field) do nothing but fawn over him, gushing about his good looks and his throwing mechanics. This spawns an obsession over him that lasts until 2017, the setting for the movie, when Brady and the New England Patriots take on the Atlanta Falcons in the infamous Super Bowl LI (look away now, Falcons fans).
If anything, I hoped the extremely strong cast could save the film. Each of the four actresses mentioned above are incredibly accomplished individuals with hardware that could almost rival Tom's. And to their credit, they all gel reasonably well enough that one could think they've been longtime friends. I brought my buddy Brett, who's about the only diehard Patriots fan I know (he named one of his cats after Julian Edelman), and we even got free popcorn and a beverage, so hey, maybe it'd be an enjoyable night, right?
The film claims to be inspired by a true story, and it is, in the sense that there was a group of older ladies who are Patriots fans and called themselves Over 80 For Brady. They indeed exist, and that's about the extent of the similarities. In the movie, Lou inspires the ladies to try and go to the Super Bowl to see Tom in person and when she announces that they won a contest for four Super Bowl tickets, it appears that their dreams will come true. The four head south to Texas, where they predictably run into several obstacles en route to getting into the stadium.
I don't use the term predictably lightly, because essentially every single thing about the movie is predictable. Now, it's a very light-hearted comedy, so I'm not expecting an edge-of-your-seat thriller, but there is absolutely no palpable sense of tension or uncertainty in the 98 minute film. There aren't really any antagonists in the film (even the security guard that harasses them at times is friendly by the end of the film), and conflict is easily resolved. And of course, everyone who's a football fan knows how that Super Bowl ends, so no tension there.
But it's a silly comedy, you say. It should just be fun and funny. Sure, I'd agree with that; I'm even willing to forgive most of the absurd plot elements for it. I just didn't find a lot of humor in it. I'm not sure if I even chuckled throughout the film; I could easily count on one hand the number of times I exhaled sharply through my nose. Brett, the ardent Patriots fan, didn't enjoy it at all; he expressed disappointment that his favorite player, Julian Edelman, chose to be in the film. Even Tom with his over-enthusiastic line delivery couldn't muster any sense of emotion.
It is entirely possible that Brett and I are the wrong demographic for the movie; we're not exactly spring chickens (Brett's in his mid-30s, I'm 38), but the movie is almost certainly intended to appeal to perhaps our parents' generation, or even their parents'. The people sitting in the seats (admittedly older) enjoyed the movie, and as we walked out, there was a general positive sentiment.
At the end of the day, watching 80 For Brady felt like eating a bowl of plain oatmeal: there's absolutely nothing exciting about it, but you're probably not going to get sick from it. If you're older than I am or you are hopelessly in love with Tom Brady, tack on a couple letter grades and go see it. If you're a Rams fan or Bridget Moynahan or Gisele, you can probably skip it and be better for it.
D+