Megan Fox to Host First Episode of Saturday Night Live Season 35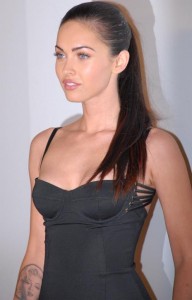 It was learned late Friday afternoon that "Transformers" star Megan Fox will be the first host of the 35th season of Saturday Night Live on September 26. According to Life & Style Magazine, and insider says that Megan has already finished filming the first digital short of the season with Andy Samberg. These digital shorts have become viral hits on the internet over the past several years – the first being Samberg's "Lazy Sunday," which many accredit to launching the success of YouTube.
I think the question on everyone's mind is… "will Megan Fox be FUNNY on Saturday Night Live?" The actress has really only been in two huge movies thus far – "Transformers" and "Transformers: Revenge of the Fallen" most recently. She has been in one comedy – 2008's "How to Lose Friends & Alienate People." And she is the upcoming star of a horror movie, "Jennifer's Body," about a seemingly-perfect cheerleader whose life is thrown into disarray when she gets possessed by a demon, begins eating boys in her small town, then faces off against her best friend and the Satan-worshipping band that made her evil. So can she do comedy?
What do you think about Megan Fox being the first host of the 35th season of Saturday Night Live? Will she be able to pull it off? Or will she be just eye candy?