Matt's Journey to the Dark Side: An Android User's Foray into iOS – Day 2
Day two of my experiment has seen some loss of luster as far as the iPhone goes. While any new gadget is cool on the first day, the second day is when the major flaws start presenting themselves.
These flaws (as I see them) all seem to revolve around the idea of limited functionality. Let's dive deeper shall we.
Apps (Task Management, Facebook Integration)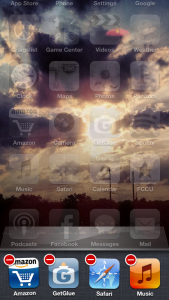 One of the criticisms of the early iPhones was the lack of multitasking. While Apple has improved this feature, it ultimately means that iOS keeps apps suspended in the background indefinitely. Why would I want to manually shut down every app? For the uninitiated this means that to shut down an app, I have to double click the home button,  hold down one of the running app icons until it "wiggles" and click the little minus sign for every app I've opened. This conjures up memories of the awful days of Android's TaskKiller app, whose functionality has since been incorporated into Android. If I don't use an app for a certain amount of time in Android, it shut downs. I would much rather prolong my battery life than save a couple of milliseconds waiting for an app to re-launch.
With iOS 6, Apple has introduced a standalone Podcasts app that is fantastic. Aside from the ability to queue up a playlist of podcasts episodes, this app grants you full access to every podcast on iTunes, without having to worry about RSS updates or licensing deals with third party apps like Stitcher.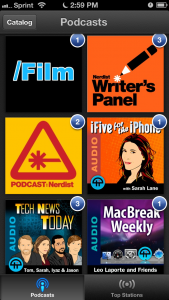 The functionality and appearance of most multiplatform apps are almost identical. As always, Apple seems to be very keen on skeuomorphic design with its stock apps, making a compass look like wood or making the notepad binding look like leather. While this is ultimately based on personal taste, I tend to find it a little cheesy.
The iPhone 5 is the first to introduce Facebook integration at the Operating System level. The most evident changes include the ability to write a status update from the Notification Center, share virtually anything to Facebook via the integrated "share" buttons and use Siri to update your status.
As a Facebook user, I find this to be a welcome addition to the operating system. The Facebook app should also be a point of pride for any iPhone user. Facebook recently re-wrote their app from the ground up in native iOS code as opposed to HTML 5. Android is still using the HTML 5 version and improved speed in the iPhone version is noticeably better.
Navigation (Always on GPS, Maps, Turn by Turn)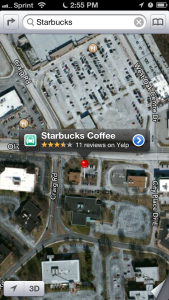 Contrary to what the public at large is reporting, my experiences with Apple's new Maps app have been pretty solid. Overhead views of the St. Louis area seem to be accurate. Directions from my home to work took me in the speediest route possible and the new Yelp integration shows nearby places of interest with embedded reviews and contact information.
I only had one instance of the Turn by Turn Navigation giving me counter-intuitive directions, however it got me where I wanted to go and I can't say if it was any less efficient than the route I was used to.
I also like the idea of an always-on GPS setting. Android users may initially be thrown at the idea of no toggle widgets for things like GPS, Wi-Fi or 4g, but the way the iPhone keeps these features running in the background keeps a lot of the guesswork out of having to turn them off and on all the time. In fact the iPhone uses intelligent switching to toggle between cellular and Wi-Fi networks as needed, with no noticeable loss in battery power.
Music (iTunes, Syncing, AmazonMP3, Playback Quality)
What is perhaps my biggest gripe about the iPhone so far is its functionality as a media player.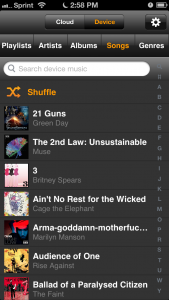 Above calls, above text messaging, even above as a web browser, this is what I personally use my smartphone for the most. You would think that a glorified iPod would beat all other handsets hands down. This is not the case. My first realization as stated in yesterday's article is that I would not have enough storage for all my music. With only 16GB, I knew that I would have to choose which music I wanted on my phone. I thought "Ok, I can deal with that", so I used the new Lightning connector to plug the phone into my computer and proceed to pick which songs I wanted to transfer. "Not so fast" said iTunes. It was then that I recalled other blog posts and articles complaining about the lack of drag and drop functionality with the iPhone and iTunes. I could not simply choose which songs I wanted, I had to go through the syncing process and make my decisions based on broader categories like Albums or Genres. I wasn't happy, but I did it. I had about 10GB of music successfully transferred.
Next up was my collection of MP3's from Amazon. I searched for the Amazon Cloud Player app and downloaded it. I looked for a way to download all my songs to the device and found that no such option existed. I dug a little deeper and discovered that the quickest way to download my Amazon MP3's is again to sort by Genre and download each Genre. I did so and went back to Apple's Music application to find the songs. To my horror, I realized that they had not populated in the Music app. Maybe it just needed time to process all the songs. There were several hundred after all.  So I waited and waited…and waited. No Amazon MP3's in the Music app. I noticed that my iTunes music was discovered in the Amazon Cloud Player app, but not the other way around. Apparently I cannot use Apple's stock Music app for everything. I'll either have to rely on a third party app to play my music or go back and forth between apps depending on where I bought my music.
Another gripe is that unlike my Evo, there is no way to control the music from the lock screen. If I want to skip a song, I have to unlock the phone, go into the music app and switch it from there. Not very safe if I'm driving.
Update: October 2nd, 2012 @ 7:59pm – I have been informed in the comments section below that users can access Music, Podcast, Spotify, etc. controls from the lock screen by double tapping the home button. I have verified this and the fact that this even works with third party apps actually improves on Android's functionality. Chalk one up for the iPhone.
Despite all my gripes with the music software, I must say that the audio hardware seems to be fantastic. The audio quality in my car and over the new EarPods sound better than they did on my Evo…even if the EarPods don't really fit any better than the previous ear buds.
Wrap-Up
Like I said initially, my second day with the iPhone was not a positive one. I'm beginning to feel more comfortable with the switch from Android to iPhone, but I'm also discovering some things I don't like. Granted a lot of the issues stem more from the sheer act of change than the actual product. For example, had I owned an iPhone all along, I would have a problem porting some of the older DRM music files to an Android. The idea of an "eco-system" is genius as far as profits go. Apple gets to keep people locked into iTunes and their media. Amazon keeps people from switching to a Nook because of their proprietary Kindle format, but in the end it's ultimately bad for consumers.
Tomorrow we'll take a look at some other features such as the camera and game performance, as well as my final thoughts about the switch.