Marvel and Disney Close the Deal on Merger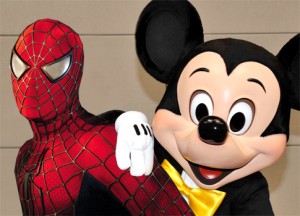 Well, it is a done deal. Marvel shareholders have approved the merger with Disney. I wouldn't be too worried about it. I've seen a lot of people get worked up over this. I see it as a good thing. Let's be honest here, the comic book industry is slowly crumbling every years, with sales dropping off more all the time. What keeps the comics industry alive? Well, the rabid fanbase, and it is a goldmine for film adaptations. Disney has always been great about keeping control of its IPs, and I'm guessing they will do the same with their new group of Marvel characters. Plus doesn't want to see Mickey in a Marvel Zombies comic?
New York, New York – December 31, 2009 — Marvel Entertainment, Inc. (NYSE: MVL), a global character-based entertainment and licensing company founded in 1939, announced that at a special meeting held this morning, Marvel stockholders approved the adoption of the Agreement and Plan of Merger entered into by Marvel and The Walt Disney Company ("Disney"), which provides for a merger in which Marvel will become a wholly-owned subsidiary of Disney. Marvel anticipates that the merger, which, based on the closing price of Disney's common stock on December 30, 2009, has an estimated value of approximately $4.3 billion, will be completed today after the close of the market.
The completion of the merger is subject to satisfaction of remaining conditions disclosed in the definitive proxy statement/prospectus filed by Disney with the Securities and Exchange Commission pursuant to Rule 424 on December 2, 2009.