March 13's New Releases
Here's a countdown of what is out in theaters today: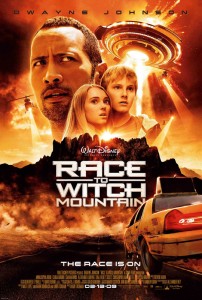 Race to Witch Mountain
Likely to be to be this weekend's #1. Also the second movie in as many weeks that has Carla Gugino in it. This reboot of the 1975 children's film Escape to Witch Mountain stars Dwayne "The Rock" Johnson as a unlucky cab driver who has to transport two extraordinary aliens who look like children to Witch Mountain. They are being chased by an evil entity. So expect hijinks to ensue.
Expect to enjoy this is you are taking a family to. It doesn't look like the kind of fare adult viewers are going to flock to.
Race to Witch Mountain should have a respectable release this weekend. Expect it to come in around the $30 Million dollar mark, pushing it above last weeks top movie Watchmen.
Miss March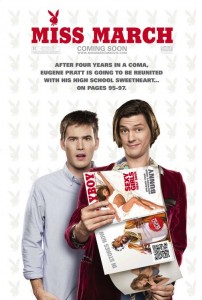 From two of the Whitest Kids You Know comes this raunchy comedy. I've seen barely anything marketing this movie, other than a few viral videos on CollegeHumor. The stuff I have seen looks very funny if a little over the top. If you've ever seen WKYK you know their brand of comedy is unique and they know how to take a joke too far. The only problem with this movie is it seems a little to cut and paste for them. It centers around a young man named, Eugene, who after finally about to score with his high school sweetheart has an accident and goes into a coma. He wakes up only to find his once sweetheart is now a Playboy centerfold for the March issue. The second movie of the weekend which is basically one big road trip begins.
I actually want to see this as stupid as the plot sounds. Craig Robinson (you probably know him as Darryl from The Office) as a rapper named Horsedick.MPEG looks hilarious. It looks like a movie that might reveal all the kind of funny parts in the trailer. With a 6% fresh rating on RottenTomatoes, I'm not going to expect much.
Looks like this one will probably bomb at the box office. Expect a $3-4 million take this weekend, if it is lucky.
The Last House on the Left
Oh yeah, another horror remake, let me jump for joy. I've never been a huge fan of the horror genre, don't get me wrong I enjoy some of the classics, it just is probably my least favorite genre in film. Add in that it's a remake of a much superior horror film by Wes Craven in the 70s and you can considered me bored. The remake of horror films is in full swing and it must be making studios enough to keep on doing it. I'm just ready for an original film every once in a while.
That being said, it looks to be getting decently favorable ratings from critics. It doesn't look like critics are climbing over each other to tell you how good it is, but it apparently isn't the worst remake ever.
This one doesn't have the remake power of a Halloween or Friday the 13th to pull it along, but it should do well enough. Expect some where in the $12-14 million dollar weekend.
——————————————-
There are a few other limited releases this weekend, but not for St. Louis. We'll tell you more about those when they are released locally. If you saw one of these movies this weekend and you want us to know what you thought, email us a [email protected] We'll let everyone know what you thought.