Mamma Mia! Returns to the Fabulous Fox Theatre Nov 22-27! Interview with "Bill Austin" Actor John-Michael Zuerlein

Mamma Mia! returns to the Fabulous Fox Theatre in St. Louis from November 22-27! Performances are Tues. & Wed. at 8pm, Friday at 1pm & 8pm, Saturday at 2pm & 8pm and Sunday at 1pm & 6:30pm. The running time is 2hrs, 30 minutes and tickets range from $25 to $75. Purchase tickets at Metrotix, or visit the Fabulous Fox website for more details.
---
I had the chance to chat with actor John-Michael Zuerlein, a self-described "Midwestern boy from Omaha, NE" who plays the role of Bill Austin in the North American tour of Mamma Mia!. His credits include: Regional: Forbidden Broadway; The Secret Garden; A Tuna Christmas; Smokey Joe's Café; Forever Plaid; Tick,Tick…BOOM!; Falsettos; Winesburg, Ohio; Love! Valour! Compassion!; Candide. Zuerlein talks about becoming an actor, his experience with the cast of the tour, and how he is a pretty handy guy off of the stage.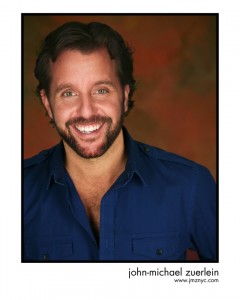 Kevin: What made you decide to get into acting? Did you always want to become an actor?
John-Michael: When I was young I really wanted to be a fireman.  Then for a long time, I wanted to be a dentist.  It wasn't until high school that I started doing shows that I decided to be an actor.  It was something I really enjoyed and figured that it would be more fun than drilling into people's teeth.
K: How did you come to get the role of Bill Austin?
J: I spent my first year with the tour in the ensemble, as an understudy for Sam, Bill, and Harry.  Then the role of Bill opened up and they offered it to me and I took it.
K: Were you a fan of ABBA before landing the role?
J: I wouldn't say I was a fan, but I would say that I enjoyed their music.  It's pretty hard not to enjoy their songs.
K: Had you seen Mamma Mia before becoming part of the national tour?
J: Yes.  A few times.  I originally went to see it when a friend of mine was playing Harry in the Broadway production.  I remember being amazed at the audience reaction to the show.  They went crazy.  A couple years after that I saw another friend of mine playing Tanya in the Broadway show.  I think I may have seen it one other time during my audition process just to familiarize myself with the story.
K: How long does it take to prepare for the tour, and how long are you on the road?
J: Well…when I joined the tour in the ensemble, I met up with them on the road.  The stage manager and dance captain and musical director taught me everything I needed to know in about two weeks, then I went into the show.  It's easy to learn a show when everyone around you already knows what they're doing.  It makes traffic patterns much easier to learn.  After my first year, they re-cast almost the entire company.  Only four of us remained and that's when I moved into the role of Bill.  At that time, the show went on hiatus for about two months and we spent four weeks in NYC with the entire new cast learning the show.  That was a really great experience because we all got the chance to work closely with the creative team to create these new relationships with each other.  Even though I had played Bill many times as an understudy, when we were able to start from scratch, I was able to bring more of myself to the character.
K: Did you audition for the roles of Sam or Harry before getting the part of Bill?
J: I auditioned for Mamma Mia for 5 years before I was cast in the show.  Each time, they would have me prepare all of the material for Sam, Bill, and Harry because they were looking at me for an understudy position.  Inevitably, an actor is going to be more suited for one character over the others.  I've always really enjoyed playing Bill.  I played all three of them when I was an understudy, but Bill fits my personality really well.  He's a lot like me.
K: What is it like interacting with the other actors in this show?
J: We are fortunate with the cast we have.  Like every workplace, there are people you get along with better than others.  However, our cast is really easy-going for the most part and we all get along.
K: What is the most fulfilling part of being in this show?
J: The thing I like about this show is that, at the end of the night, everyone leaves the theatre happy.  Regardless of what kind of day I've had, or how taxing our travel schedule is sometimes, once we get in those jumpsuits and do the finale, you can't help but be in a good mood.  It's great seeing the audience up on their feet and having a good time.
K: What makes this show different than the ones you have been a part of in the past?
J: Mamma Mia has literally changed my life…like it has for most everyone who's had the pleasure of being a part of it.  Being an actor is challenging in the best of times, let alone in a bad economy.  Most contracts last anywhere from 6 weeks to 3 months.  Having a long running contract like this has given me the opportunity to travel to lots of great places and see things I would never have seen.  It a real blessing to not have to worry month to month and hustle around auditioning to find your next job.  My contract is up with this show in August, and I'll have to go back to that, so I'm thankful for this time I have been given.
K: Are there any funny moments or special things that have stood out in particular during this tour?
J: Most of my favorite things on tour are the good friendships I've made that will last a lifetime.  I had traveled a lot around the country before I got this job, but when I'm done with Mamma Mia next August, I will have performed in every state in the country except for Hawaii.  Sadly, the tour played there a couple months before I joined.
K: Do you prefer being in musicals or non-musicals?
J: I enjoy both, but I really enjoy singing, so musicals are my favorite.  Unfortunately, the role of Bill doesn't sing very much in the show.
K: Have you ever performed at the Fox Theatre in St. Louis, or seen a show there?
J: I performed in Mamma Mia the last time it played the Fox which I believe was in 2009.  Maybe 2010.  It's one of my top three theatres to perform at in the country.  Interestingly, the first Broadway tour I ever saw was at the Fox when I was on a choir tour in college and a group of us went to see the National Tour of Damn Yankees with Jerry Lewis.
K: What are your other hobbies beside from acting?
J: Well, when I'm not working as a performer, I make my living as a carpenter.  I have a business  (well…it's really just me) called HANDY JACK.  I build things for people…bookshelves, decks, install doors, that sort of thing.  All around handyman.  Home improvement has always been a hobby of mine, and I just sort of turned it into side job.  It's better than waiting tables.  I also enjoy going to movies, playing pool, poker, and I've recently taken up skateboarding…which isn't going very well.
K: Have you seen the movie? How do you think the national tour compares?
J: Yes, I've seen the movie.  Our show is very different.  Of course I'm going to say we are better, but I'm a little biased.  I think the show simply works better as a stage piece.  I will say, however, that I'm incredibly thankful for the movie.  The release of the movie totally reinvigorated the box office of the tour and completely changed our demographic.  It used to be that it was all 40-50 year old women flocking to the show.  Now, thanks to the DVD, lots of children have become enamored with the music and dancing, so now our audiences are filled with families.  It's great.
K: Do you have any other projects coming up after the tour is over?
J: Since I'm contracted until August, I don't have anything booked after that.  I will have been on the road for three years at that point, so my biggest project is going to be getting all of my stuff out of storage and moving to NYC.  I was living in Kansas City when I got this job, so I packed up my house and now have a renter in there.  I'll be moving to NYC most likely sometime next fall.  As far as work is concerned, most theatre things only cast a few months in advance, so maybe once spring comes along, I'll start auditioning again.  Back to the grind!
---
Mamma Mia! returns to the Fabulous Fox Theatre in St. Louis from November 22-27! Performances are Tues. & Wed. at 8pm, Friday at 1pm & 8pm, Saturday at 2pm & 8pm and Sunday at 1pm & 6:30pm. The running time is 2hrs, 30 minutes and tickets range from $25 to $75. Purchase tickets at Metrotix, or visit the Fabulous Fox website for more details.