"Mamma Mia!" is Coming to St. Louis – Interview with "Donna," Actress Michelle Dawson
Mamma Mia! is coming back to St. Louis, and will be playing at the Fabulous Fox Theatre from February 16th to the 21st. The story revolves around a mother, her daughter who is getting married, and her three possible fathers. The story is told using timeless music from the band ABBA, and the show has become the 12th most performed in Broadway history. Now you have a chance to see what everyone is talking about, and why they are falling in love with Mamma Mia!
I had the pleasure of talking to Michelle Dawson, who stars in the tour as "Donna Sheridan." Her previous tours include roles in "Seven Brides For Seven Brothers," "The Secret Garden," "The Music Of Andrew Lloyd Webber," "Annie," and "Chicago: Ragtime". We spoke about the career that she has always dreamed of, the amazing show, how the music tells the story, and much more.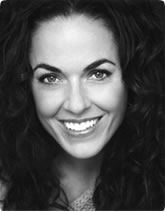 I asked Michelle about the popularity of Mamma Mia!, and told her that I have heard of people going to see it over and over again. She said,
"I do hear that so often. Those folks crank up the audience even more. It's going to be fun for you… it's so different. The ending is so surreal – it's sort of like a rock concert, and everybody's jumping out of their seats. It's not like traditional musical theater in a way.

This isn't the first time that Michelle has starred in Mamma Mia! Last year, during the national tour that did come through St. Louis, she took on the role of Tanya – one of Donna's friends who helps her on the journey.
"I played Tanya when I was in St. Louis," said Michelle. "I've been on this tour for a while now. It's actually been two years this month that I've been doing it. I played Tanya for a year, and now Donna. I always look at it as a gift to be able to play these two amazing roles, and to do the show. I've been in the business a long time, and know how it's hard to be a part of such an amazing show. And to have two great 'gal' roles.
I asked Michelle about her career, and if she has always wanted to be in live theater.
"Yes. I think it happens when you know what you want to do in life – you find that out early on. It happened that way to me, anyway. Kids are deciding what they want to do in college. I grew up in Vermont, and I think my first musical was Wizard of Oz in 7th grade. I wasn't Dorothy – I just played some made up character at the time. It just started going from there – I just loved it. This is what I was meant to do. It wasn't like 'what am I going to do with my career,' it was just my path. I started taking lessons and doing community theater. I went to Carnegie Mellon, and moved to New York. The highs and lows of this business, I think, can separate the people that say 'I just can't take it.' When you're not working it's a tough business – but this is what I do, and there's nothing else I would do.
From talking with Michelle, it really seemed like she has been able to follow her dreams, and go to work everyday doing something she loves. But it took a lot of hard work to get where she is today. She said,
"This is when it all pays off, to be doing a show like this. Believe me… the highs are fantastic, but you know, it's not an easy thing to do. It's very competitive, and there's a lot of us out there. Being at the right place at the right time goes into the factors, not just being talented. The cards have been in my favor."
Being on a national tour takes a lot of talent, and a lot of dedication to your career. Michelle told me a bit about her family, and how being on the road is.
"I have a family – a five year old son, and my husband who is a violinist. We try to make the best of things when I'm on the road. My son was with me for the first year and a half, coming and going. My husband would come and go as well. But my son is in kindergarten now – we do a lot of Skyping! He's a trooper… with a family, I see them every couple of weeks, and we do OK."
Mamma Mia! has been open for a long time. But before getting the role of Tanya in last years tour, Michelle had never auditioned for Mamma Mia! They initially wanted her to come in for the role of Tanya, but they actually wanted her to prepare for Donna as well.
"I went in there, and it was just a one time thing. It happened really quick – I sang from the show, they had me come back, and they offered me the role. They initially offered me the role of Tanya, but they also wanted me to sing some Donna parts. But to sing "Winner Takes It All" in 24 hours just wasn't going to happen. I said 'another time, so I can prepare,' so I knew it was a possibility. And a year later, the Donna left, and it happened for me… I went in there and sang 'Winner Takes it All,' and the scene work and what you do in auditions. That was an exciting transition. Tanya is a fantastic part… but Donna has such a great journey. It's a marathon of a role. She gets to sing so many great ABBA tunes, and I've been really able to work my voice. From 'Winner Takes It All,' it's like a love-hate relationship with that song. It's such an amazing tune, but there's so much to it. It takes a long time to figure out what you want to do with it, and get it in your voice. It's a high to sing it.
I asked Michelle if she was a fan of ABBA music. She responded,
"The wonderful thing about ABBA music is that it has such a tune to it. Such great melodies. But the lyrics are amazing – they always have a journey, and tell a story. You can relate to your own life through these tunes – that's the fun thing about Mamma Mia!
I asked her why she thought Mamma Mia! has become so popular. She says that aside from the great music, she thinks it is because people can relate to the characters.
"I think women will be like 'Oh, I have a girlfriend like that,' or 'gosh, Tanya reminds me so much of me.' Donna being a single mother, and kind of doing it on her own. I am woman, hear me roar, kind of. But yet, she gets a little 'in a tizzy' because she did not expect these dads… You can't help but to take part of your own life and apply them to the role. With my own mother, my relationship, when I'm dealing with Donna and Sofie. And I have a son, so all of those things go into the role when developing the character.
Because of all the great songs in the show, Michelle had trouble narrowing one down to be her favorite.
"That's a tricky one… I love to sing the ballads, like 'One of Us.' Winner Takes It All,' 'Money, Money…' I think 'Winner Takes It All' has to be my favorite, because it is a challenge. There are just so many levels to the song, and heart-wrenching."
From speaking with Michelle, I became even more excited to see the show. Full of amazing music from ABBA, great characters and talented actors pulling it off – it is one that you won't want to miss. Michelle told me,
"It's an escape. The ABBA music is so catchy. It's a light story. You laugh, you cry – but crying is in a beautiful, heart-felt way. I just think by the end of the show, people are so happy to be alive.
---
Mamma Mia! will be playing at the Fabulous Fox Theatre in St. Louis from February 16th to the 21st. You can purchase tickets at Metrotix, or visit the Fabulous Fox website for more details.