MACHINE GUN PREACHER Opens October 7! Enter to Win Passes to the St. Louis Advance Screening!
Enter for your chance to win a pass, good for two!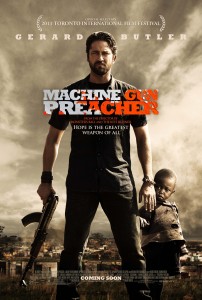 Sam Childers, a former drug-dealing criminal, undergoes an astonishing transformation and finds an unexpected calling as the savior of hundreds of kidnapped and orphaned children. When ex-biker-gang member Sam Childers makes the life-changing decision to go to East Africa to help repair homes destroyed by civil war, he is outraged by the unspeakable horrors faced by the region's vulnerable populace, especially the children. Ignoring the warnings of more experienced aide workers, Sam breaks ground for an orphanage where it's most needed–in the middle of territory controlled by the brutal Lord's Resistance Army (LRA), a renegade militia that forces youngsters to become soldiers before they even reach their teens. But for Sam, it is not enough to shelter the LRA's intended victims. Determined to save as many as possible, he leads armed missions deep into enemy territory to retrieve kidnapped children, restoring peace to their lives – and eventually his own.
Starring: Gerard Butler, Michelle Monaghan, Michael Shannon, Madeline Carroll, Kathy Baker
Directed by: Marc Forster
In order to enter the contest, become a fan of ReviewSTL on Facebook and share ReviewSTL.com with all your friends (click the "share" link on the bottom-left side of the page) – telling us what your favorite Gerard Butler movie is and why. Then like the post to complete your entry. NO PURCHASE NECESSARY. PLEASE REMEMBER TO READ THE RULES!
SCREENING IS TUESDAY, OCTOBER 4 AT LANDMARK PLAZA FRONTENAC (7PM).
Good luck! We hope to see you at the movies!
Watch the trailer below:
[hdplay id=421]
MACHINE GUN PREACHER opens in St. Louis on Friday, October 7.