M. Night Shyamalan's "The Last Airbender" Superbowl Spot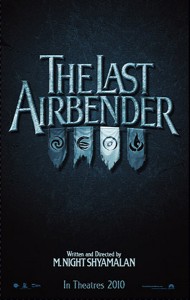 Here is the Superbowl spot for M. Night Shyamalan's first adapted feature, The Last Airbender. Looks kind of cool. I'm always a big fan of cinema that features kung fu. The series is popular for a reason, and it will be nice to see Shyamalan do a picture that isn't based completely on a big twist. Other Superbowl spots and commercials should start leaking soon. We've gotten some pretty good trailers during the Superbowl in previous years, lets hope this one is just as good.
Synopsis:
Air, Water, Earth, Fire. Four nations tied by destiny when the Fire Nation launches a brutal war against the others. A century has passed with no hope in sight to change the path of this destruction. Caught between combat and courage, Aang (Noah Ringer) discovers he is the lone Avatar with the power to manipulate all four elements. Aang teams with Katara (Nicola Peltz), a Waterbender, and her brother, Sokka (Jackson Rathbone), to restore balance to their war-torn world.
Based on the hugely successful Nickelodeon animated TV series, the live-action feature film "The Last Airbender" is the opening chapter in Aang's struggle to survive.
Cast: Noah Ringer, Nicola Peltz, Jackson Rathbone, Jessica Jade Andres, Dev Patel
Director: M. Night Shyamalan
Genres: Martial Arts, Children's Fantasy, Fantasy Comedy, Adventure, Children's/Family
Release Date: July 2, 2010